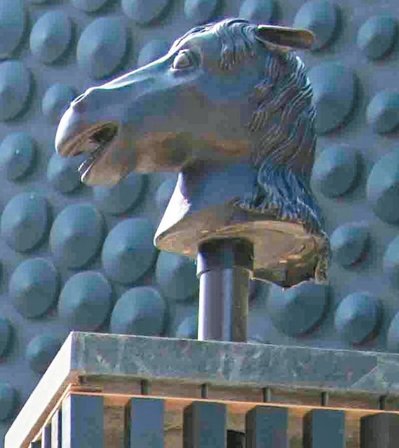 The picture taken on December 28, 2015 shows a replica of 12 Zodiac antiquities donated by Jackie Chan. (Photo/ifeng.com)
Kung Fu star Jackie Chan has donated a set of replicas of the 12 Zodiac antiquities of the Old Summer Palace in Beijing to a museum in Taiwan.
Taipei Palace Museum opened up its Southern branch in Chiayi County. The 70 hectare museum hopes to collect and display important Asian artifacts, as well as become a major tourist attraction in Southern Taiwan.
Chan says that he was very selective of the recipient of these artifacts.
"We were choosing and trying to decide who to donate the Chinese Zodiac Bronze Heads to."
Originally a part of a water fountain in the Old Summer Palace, the bronze heads of the 12 Chinese Zodiac animals were looted by foreigners during the Opium War in the 1800s.
Seven of them have been returned and are now under the care of museums, but 5 of them are still missing.
The "Rush Hour" star became fascinated after reading about them in 2000. His 2012 film "Chinese Zodiac" was about a team of mercenaries who tried to recover the lost artifacts.
Chan eventually decided to put together a team of artists and researchers to create replicas of the bronze antiques.