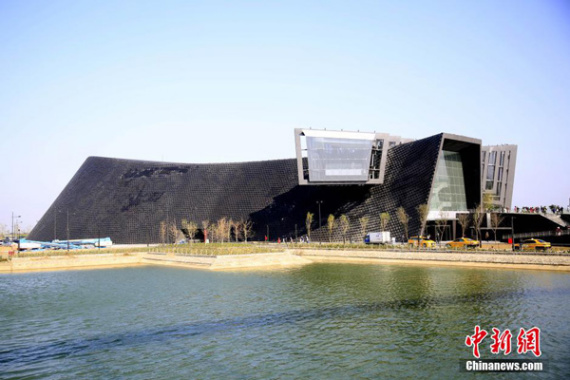 The Southern branch of the Taipei Palace Museum opens to the public. (Photo/Chinanews.com)
Some of China's most valuable historic artifacts went on display in Taiwan on Monday at a new branch of one of the world's top museums.
The 9,000 square meter venue in the southern city of Chiayi is an extension of Taipei's famous National Palace Museum — one of the most popular museums in the world, drawing more than 5 million visitors each year.
The new attraction opens as Taiwan attempts to diversify its stagnating economy, with tourism a key area for growth, and officials hope the museum will lure more visitors to the rural south.
The opening comes after a catalogue of delays due to flooding, and disagreements with the venue's original architect — it has taken 15 years to complete.
"We hope to attract up to 1.5 million visitors in the first year," said Feng Ming-chu, director of both the Taipei and Chiayi museums.
The new venue will target local visitors from the south as well as foreign tourists, with the museum to be included in travel packages, said Feng.
The flagship Taipei museum boasts more than 655,000 Chinese artifacts spanning 7,000 years from the prehistoric Neolithic period to the end of the Qing Dynasty in 1911.
They were removed from the Beijing Palace Museum in the 1930s by China's Nationalist government to prevent them falling into the hands of invading Japanese troops.
Feng was optimistic the new branch would attract visitors, despite the less well-known location.
She compared it France's Louvre museum opening an outpost in the former coal-mining town of Lens.
"We believe the target could be met if taking the French experience as an example," she told AFP.
Stellar exhibits from the Taipei museum will be moved to Chiayi for the inaugural months — including the "jadeite cabbage" sculpture, created in the 19th century by an unknown artist.
The cabbage head with a locust and cricket camouflaged in its leaves has become a favorite with visitors and is seen as an auspicious symbol of fertility.
There will also be South Asian costume, Islamic jades and blue-and-white porcelain from the Ming Dynasty.
Permanent exhibitions include Buddhist artefacts, Asian textiles and tea culture displays.
Designed by architect Kris Yao, the new museum has two stretched, curved buildings which feature huge walls of glass and are emblazoned with dragons and clouds.