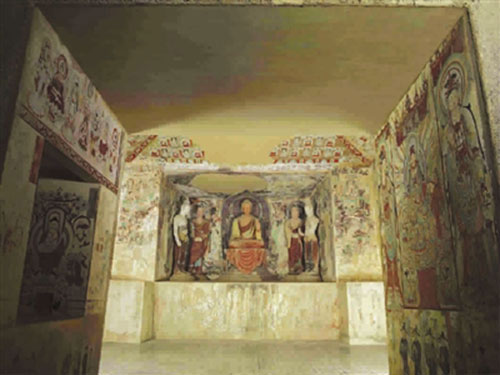 Replicas of "Cave 220" in China's Mogao Grottoes are on exhibition at The Shanghai Himalayas Museum in Shanghai starting from November 29, 2015. (Photo/xinmin.cn)
Replicas of eight caves in China's Mogao Grottoes have gone on show in Shanghai.
The exhibition, themed "Dunhuang: Song of life" is the largest of its kind in recent years.
Visitors can experience the real Mogao Grottoes by walking through exact duplicates of the caves.
Wang Xudong, president of Dunhuang Research Academy, says the exhibition offers a rare opportunity.
"Because the caves are precious and delicate, we do not open them to the public. But we want to show the public Mogao Grottoes' representative artworks from the period of Sixteen Kingdoms to the Yuan Dynasty, so we sent copies of the eight caves to Shanghai. Every cave has its own characteristics and represents culture and religious belief of its times,"
The exhibition also includes 16 pieces of China's first-class national relics such as the Records of the Three Kingdoms.
The Mogao Grottoes, located in northwest China's Gansu Province, were listed as World Cultural Heritage sites in 1987.
The Grottoes are famous for their ancient Buddhist sculptures and artworks inside the caves.