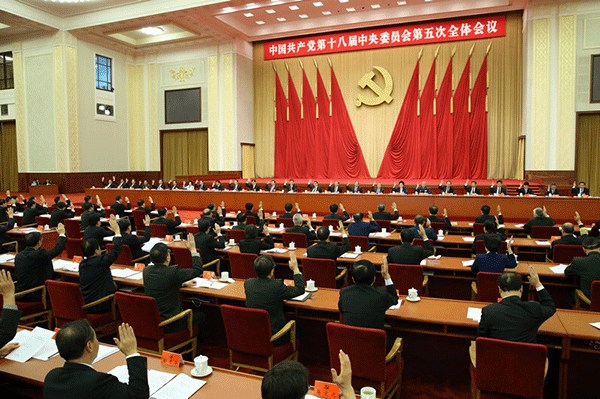 The Fifth Session of the 18th CPC Central Committee, which was held last week, adopted proposals for economic and social development in the 13th Five-year Plan (2016 to 2020).(Photo/Xinhua)
The Communist Party of China on Tuesday issued the full text of proposals for mapping out a blueprint for China's development over the next five years starting 2016. Here are some highlights from the proposals.
1. China has seen great progress in the past five years, becoming the world's second-largest economy and with per capita GDP increasing to $7,800. Agricultural production rises continually and proportion of permanent residents in urban areas reaches 55 percent.
2. Various systems to be improved in next five years. National governance ability to be further enhanced through modernization and basic systems to be set up in each industry. Nation to be more democratic and rule of law and judicial credibility to be implemented and boosted. Human rights and property rights to be protected effectively.
3. Further improving competition in natural monopoly sectors including electricity, telecommunications, transportation, petroleum, natural gas and public services.
4. Expanding the cybereconomy and implementing the Internet Plus plan. Increasing network speed and lowering fees, along with supporting innovation in cyberspace and pushing related industries, business methods, supply chains and logistics chains.
5. Increased autonomy for universities and research institutes. Project leaders to have more freedom to make strategic decisions, including on financial and personnel administration.
6. Nurturing new-style professional farmers, deepening reform of the rural land system and promoting the orderly transition of land operational rights.
7. Sticking to the most stringent policies for protecting cultivated land to boost capacity and ensure grain security.
8. Fiscal reform to be strengthened. Responsibilities of central government and other authorities to be moderately strengthened to approve allocation of their income.
9. Financial reform to be accelerated. Issuance and trading system for stocks and bonds to be improved.
10 New urbanization method to be pushed, focusing on improving livelihoods and deepening reform of household registration system.
11. Legal land use rights of farmers to be ensured, including those who work in cities. Renovation of shantytowns in cities to be speeded up.
12. Enhancing online cultural building, encouraging positive cultures in cyberspace and cleaning up the online environment. Promoting mixed development of traditional media and new media and accelerating digital building.
13. Reform of military to be accelerated, with goal of establishing modern military system with Chinese characteristics by 2020.
14. Promoting clean production and building green and low-carbon industry systems; promoting green finance and establishing the green development fund.