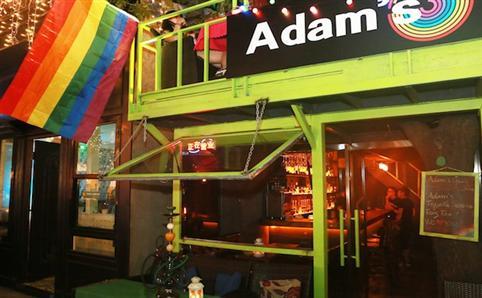 It's not often that a man in heels mixes us a raspberry mojito at three in the afternoon. Then again, Adam's proprietor Mondo Wong isn't exactly your typical Bar Street publican.
When Adam's neon-green silhouette rose above Sanlitun, closely followed by the capital's first permanent, public rainbow flag, some were skeptical. An unwritten rule for queer-focused businesses in Beijing has been to keep it on the DL. Oiled go-go boys, 5am disco and drag queens are all A-okay, but never before has a gay bar or club officially 'come out'.
When we arrived at Adam's, on a wet weekday afternoon, we had to push past some foreign tourists taking selfies in front of the bar. Even to outsiders, Beijing's newest queer hangout stands out from the crowd.
Wong broke the mould when he made Adam's. 'This is a confusing time,' Wong growls in a velvety brogue. Preparing for an upcoming drag night, Wong asks if he can try on his precipitous new stilettos as he shows us around. 'We've got customers, just not many gay ones. Lots of straight walk-ins. I've heard other bar staff along the street – they're so funny – telling people "don't go in there, it's a gay bar!" But people come in anyway. We had an American mother with two children in here the other day, and we all had a great conversation.'
He pauses, then grins wickedly. 'I need more gay people!' Adam's doesn't have the preen and pose potential of upmarket venues like Mesh, nor the ample space and pedigree of perennial favourite Alfa. In fact, if it weren't for the rainbow flag, you could be forgiven for thinking Adam's looks like just another Bar Street dive. Wong himself is painfully aware of the limitations of the location – the rent is high, so he can't lower his prices as much as he'd like. While foot traffic on Bar Street is constant, a lot of passersby are tourists. While the neon-soaked strip was once the main artery for Beijing's nightlife, times have changed.
A former party planner, Wong has leaned heavily on his skills as an impresario to drum up interest. In four months, he's already made it snow in summer, dangled an acrobat in an immense hoop over Sanlitun traffic and organised a risqué photo shoot on his roof.
Most recently, he ran his own take on RuPaul's Drag Race (we're not sure if he's heard from Mama Ru's lawyers yet). Never complacent, Wong knows that there are improvements to be made; every week, it seems, the decor changes slightly, the drinks improve. Wong is also learning mixology in order to keep pace with his bar staff.
'I say crazy things, and then I do them,' he says, mulling the possibility of erecting a pool on his roof, before adding that he wants to keep details of his upcoming events a secret until the last possible second. 'I'm confused, exhausted, sick, but I want to do more for us, for this community.'
To get to know his market better, Wong is supporting LGBT events across the capital, and developing a relationship with the LGBT Center. From the beginning, he's wanted to share a message of universal love. He set up Adam's in a matter of weeks, almost on a whim, inspired by the changes in attitudes towards gay people currently sweeping the globe. 'I've got a lot of love to give. I want people to be okay with themselves, to be able to come out to their parents. One day, I'd love to see a report on CCTV saying that gays are normal. I'm sure if gay marriage became legal in China, tons of gay people would come out. Right now, though, lots of people – Chinese and foreign – won't drink in a rainbow bar.'
Wong admits that the bar being fully 'out' may explain the difficulty he has getting LGBT people through the door. It's one thing to sneak into a windowless, backstreet bar at midnight; quite another to sit in a window booth drinking a tall, froofy cocktail while a giant rainbow flag undulates above your head.
When Time Out reached out to interview Wong, he was initially reluctant, as, he says, media coverage of Adam's has centred around him, not the bar itself. 'I don't want people to come to Adam's for me, or to support me. Come to support Adam's, this community. Support yourselves. Show the world you'll happily drink in a rainbow bar.'