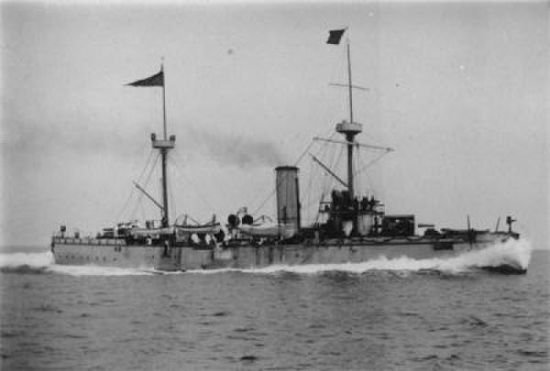 The undated picture shows the Zhiyuan Warship. (File Photo/Xinhua)
Archaeologists said on Monday that they have found at least 7 remains of bodies from a century-years old warship wreckage in waters off northeast China.
The 50-meter-long Zhiyuan Warship, located 10 nautical miles southwest of Dandong Port, was sunken by the Japanese navy during a Sino-Japanese War about 12 decades ago.
The State Administration of Cultural Heritage launched investigation and salvage work on the 1600-tonne ship in August.
So far over 100 items, including pieces of ship parts and belongings of the sailors have been successfully salvaged from the wreck.
Zhou Chunshui, head of the archaeological team said after months of work, they now know the overall status of the warship well.
He said they have found many splintered boards, bent iron boards and signs of burning.
"We know that it experienced flames of war and the Japanese improperly tried to salvage it in the 1930s, so it is not preserved very well. It is like a ship sinking into water and the whole hull of the ship began to sink. Actually it was buried by sand and the part above the shoreline disappeared."
Zhou adds that further investigation is needed to decide whether to lift the ship, whose main structure has remained intact, out of the water.
Sa Su, a Chinese scholar of Japanese studies, said whether the ship would be salvaged depends on the hull's current condition.
"If the hull is integrated, we may consider salvaging the entire ship. If the hull was damaged severely, like 70 percent of the rivets have fallen, it's impossible to salvage the whole ship. Instead, we could salvage it separately. We also need to consider how to preserve it after it is brought out of water. If it is impossible to salvage it, we will get half the result with twice the effort."
The Zhiyuan Warship coded 'Dandong No.1' was found during an underwater exploration for port construction in Dandong in Liaoning Province last year.
It was one of the 4 warships from the Beiyang Fleet, the imperial naval forces of the Qing Dynasty, which was defeated by the Japanese navy in the Battle of Yellow Sea back in 1894.
A total of 252 officers and soldiers were aboard.
Only seven survived the battle.