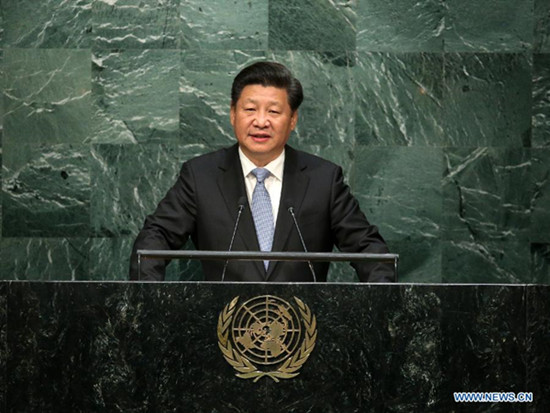 Chinese President Xi Jinping addresses the annual high-level general debate of the 70th session of the United Nations General Assembly at the UN headquarters in New York, the United States, Sept. 28, 2015. (Xinhua/Pang Xinglei)
Chinese President Xi Jinping's initiatives at the United Nations are "generous" and "big chance" for the developing countries on the path of progress and development, Egyptian experts said. [Special coverage]
On Sept. 28, Xi announced at the UN headquarters that China will set up a fund, with initial contribution of two billion U.S. dollars, to support South-South Cooperation and assist developing countries in implementing their post-2015 development agenda.
"The Chinese initiative provides giant projects for the developing countries and constitutes part of the Chinese diplomacy for widening its cooperation with those countries," said Mohamed Farahat, a political analyst from Ahram Center for Political and Strategic Studies.
China is aware of the obstacles facing the South-South countries, Farahat said.
During his speech, Xi said China will exempt the debt of the outstanding intergovernmental interest-free loans due by the end of 2015 owed by the least developed countries (LDCs), landlocked developing countries and small island developing countries.
The Chinese president also put forth China's "Six 100s" initiative, in which China will make available to other developing countries in the next five years 100 poverty reduction programs, 100 agricultural cooperation projects, 100 trade promotion and aid programs, 100 environmental protection and climate change programs, 100 hospitals and clinics, and 100 schools and vocational training centers.
Farahat reiterated that the Chinese development aids have "no political premises," while all the assistance granted by Europe, the United States, the IMF and the World Bank are associated with certain political terms.
The initiative is "big opportunity" for the recipient countries of the Chinese aids and will help in achieving renaissance for those countries, he said.
Farahat pointed out that China is concentrating its aids on the infrastructure projects, describing it as "very important benefits," adding that the developing countries should create proper environment to maximize the influence of such aids.
Farahat added that Xi's announcement will also increase China's credibility among the developing countries.
"The initiative represented the developing trend of a new era, and paved a way for the community of common destiny for mankind," he added.
China also has several other initiatives such as the Belt and Road initiative and the establishment of the New Development Bank of the emerging-market bloc of BRICS.
China's ongoing initiatives proved that they are far from just being a slogan, but embodied China's responsibility of promoting equitable development, Farahat added.
Meanwhile, Diaa al-Fiqqy, secretary general of Chinese-Egyptian commerce chamber board of directors, deemed the aids announced by Xi as "great, generous and very important" initiative for the developing countries which see China as an example of power and model of success.
Al-Fiqqy said through its aids, China performs an essential role in regaining balance and supporting development in the developing countries.
He agreed with Farahat by saying that the aids announced by Xi proved Beijing's will in helping the developing countries.
"China's actions aren't isolated from its statements and initiatives," he said.
The Chinese aids will push other countries to take their responsibilities which will by the end pour in the interests of the developing countries, he added.