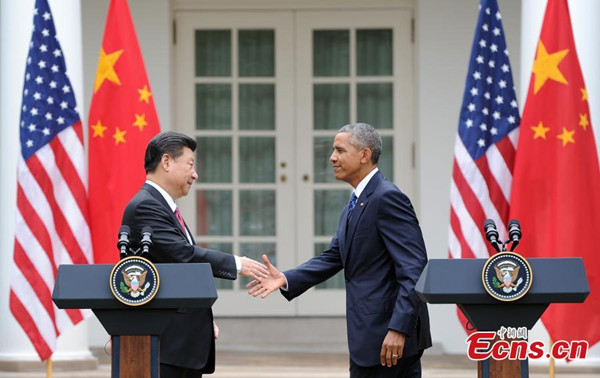 Chinese President Xi Jinping (L) and U.S. President Barack Obama meet with the press after their talks in Washington D.C., the United States, Sept. 25, 2015. (CNS photo/Mao Jianjun)
President Xi Jinping arrived home on Tuesday ahead of National Day, wrapping up his first state visit to the United States, where he also made a first appearance at the UN headquarters. [Special coverage]
The visit produced a number of concrete results, including a China-U.S. joint presidential statement on climate change issued after Xi met his U.S. counterpart President Barack Obama in Washington, DC.
The statement was released alongside a 49-item list of agreements.
China and the U.S. agreed that a prompt response should be given to requests for information and assistance concerning malicious cyberactivities.
They also agreed that "neither country's government would conduct or knowingly support cyber-enabled theft of intellectual property".
Xi put forward a six-point proposal for the development of Sino-U.S. relations during the talks. Before this, the two leaders had a three-hour informal meeting.
In Seattle, his first stop, Xi suggested that China and the U.S. read each other's strategic intentions correctly. He also reached out to U.S. entrepreneurs and visited the Boeing factory and the headquarters of Microsoft.
In New York City, the last stop of the trip, Xi told the United Nations General Assembly on Monday that China would contribute 8,000 troops to a UN peacekeeping standby force.
Xi also presided over a South-South cooperation round table and a women's affairs summit, co-hosted by China and UN bodies.
Teng Jianqun, director of the American Studies Department at the China Institute of International Studies, said the visit produced "a great step forward", especially on cybersecurity.
"The two countries used to voice merely their own demands when addressing the issue of cybersecurity. Their talks were held through different channels. Now they have expanded their agreement concerning this issue."
Teng also said the annexes the two countries signed on military cooperation and security are "highly necessary and can be implemented right away".
The visit was watched closely not only in China and the U.S. but globally.
Afghan political analyst and Kabul University professor Saifudin Saihon said the Afghan government and people hoped that Washington and Beijing could work together to ensure lasting peace in the conflict-plagued nation.