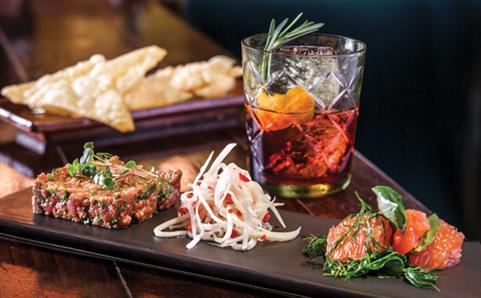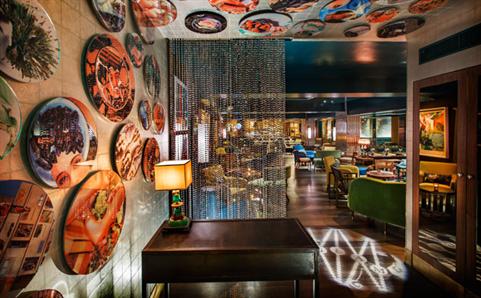 Gorgeous new dining lounge and bar from the 'M' Restaurant Group
There was an outpouring of sorrow when Glamour Bar closed late last year – the venue had been a staple of Bund-side drinking for the best part of a decade. But now it's back, in a self-referential manner of speaking, minus three letters. The new dining lounge and bar from the M Restaurant Group has taken over the space that was formerly the Crystal Room, adjacent to M on the Bund – but make no mistake, Glam is still a different beast to its predecessor.
Entering through a crystal curtain, you're greeted by a glorious taxidermy peacock;the colour palette of blues, greens and gold continues throughout the room, complemented by a selection of artworks, most of which come from owner Michelle Garnaut's private collection. Dining tables and chairs fill half of the room, with the rest of the space dedicated to the bar and lounge seating. It's appropriately glam, but the space remains unpretentious and intimate.
The drinks list was compiled by David Wang (who helped helm the bar at Glamour) and provides a few different avenues for imbibing. You can opt for a glass of wine from a selection of 32 bottles dispensed from enomatic machines, try an expertly mixed cocktail, or go down the gin and tonic pick'n'mix path (from 78RMB for a Beefeater Gin base) where you can choose from multiple tonic flavours (think cherry blossom or elderflower) as well as adding 'something special' in the form of dill flower ice, pomelo or chamomile bitters.
From among the cocktails, the Saffron & Spice (78RMB) – mixing saffron-infused brandy, apricot bitters, star anise syrup and lemon – is a fragrant, sweet and sour drink that invigorates the taste buds. For a short and intense sip, opt for the Fire & Ice (98RMB), where flaming absinthe and amaretto are added to a large cube of ice, fresh grapefruit and black pepper. The Fellini Martini (88RMB) is a similarly solid bet, playing off the espresso martini by adding Nutella and chocolate bitters to the mix.
Seeing plates of food zipping out from the kitchen, it's hard to resist the temptation to order something to eat too. The food menu was drawn up by M on the Bund's executive chef, Hamish Pollitt, who mixes an array of flavours and textures in a playful and seriously tasty way.
Small, barfriendly bites start from 32RMB for two tiny but balanced beet and goat cheese tarts. For 48RMB you'll get a small plate of morcilla pintxos that are rich and meaty in flavour, and crazily moreish. A lighter bite comes in the form of the 'Thai Tah Tah' (68RMB), which offers a generous serving of spiced beef tartare with pomelo and pickled green mango for a fresh and fragrant snack.
The 'Truffled Cheesey Toastie' (38RMB) provides the perfect drinks accompaniment or late-night snack. It's simple, but the light crunch of the bread, coupled with the pillowy soft interior makes it extremely satiating. Less successful are the dense Sicilian ricotta dumplings (46RMB), but this misstep is quickly forgiven if followed by the cubes of spiced pork (48RMB) with chilli jam – taste explosions that are a must-order.
If you're staying for dinner or are after something more substantial, opt for the wonderfully satisfying royal king crab omelette (136RMB)or the rich and succulent gingerglazed duck dome pie topped with buttery, flaky pastry (108RMB). When you're done, there's a 'Folly Trolley', with a revolving selection of desserts displayed in verrines (42RMB for a coupe) to round off your meal – that is if you can resist the temptation to head to the soft serve machine (28RMB per cone).
Glam looks set to fill the shoes of its predecessor as the perfect spot for a quiet drink on The Bund, while carving out its own unique identity. The polished but relaxed atmosphere makes it suitable for an aperitif, dinner, a night cap – or even all of the above.