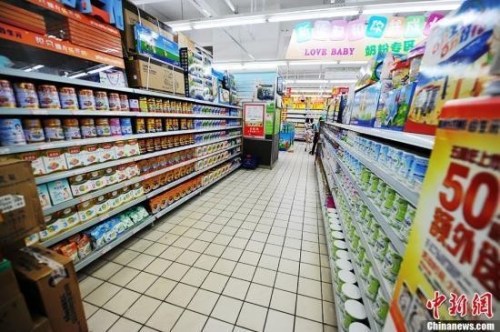 A photo shows a supermarket selling a wide array of infant formulae. (Photo/Chinanews.com)
China has revised its Food Safety Law to tighten regulations on infant formula products.
The revised law comes into effect on October 1.
According to the revised law, the former filing system for regulating infant formula will be replaced with a registration system.
The draft also stipulates tighter monitoring measures. For instance, one formula is only allowed to be used in the production of one product and one manufacturer is allowed to produce no more than 5 series and 15 formulas. Furthermore, each certificate is valid only for 5 years and must be renewed again once it has expired and the imported products must indicate its authentic origin.
Wang Dingmian, an expert from the dairy industry also says that the revised law will help regulate the market price of infant formula. He says that by limiting number of formulae each manufacturer is allowed to use, consumers will not be inundated by a baffling array of products.
But, disputes centering on the revised law also exist. With so many subsidiaries, manufacturers can easily expand their number of formulae easily. The law only targets domestic manufacturers.
But some in the industry argue that foreign brands should also be included. Critics say the new labeling restrictions on marking the function of the product may also create confusion.