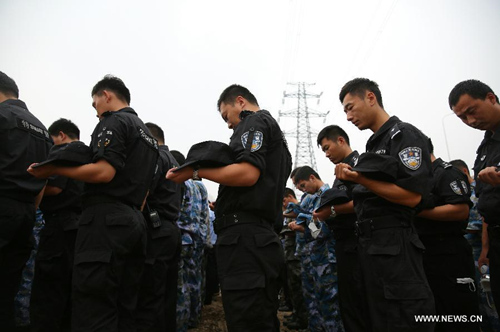 A mourning ceremony is held for the victims of the massive warehouse explosions at the blast site in Tianjin, north China, Aug. 18, 2015. The death toll from last week's massive blasts in Tianjin rose to 114. (Photo: Xinhua/Wang Shen)
Tianjin observed a moment of mourning for victims of the warehouse explosion on Tuesday.[Special coverage]
Cargo ship horns blared in honor of the dead, while people gathered to stand in silent mourning at 9 a.m. on Tuesday, the seventh day after the accident.
According to Chinese tradition, the seventh day after one's death is an occasion when the soul returns home. It is typically the day spent mourning for relatives and friends.
The city also sounded a siren as more than 300 people, including officials from the Tianjin municipal government, paid silent tribute at a garden in the Binhai New Area, where the warehouse is located.
Firemen, armed policemen, volunteers and relatives of the victims lined up to lay bouquets of white chrysanthemum in front of a memorial wall, where a solemn sign hung declaring "condolences to those who died in the August 12 accident".
A woman, who declined to be named, told Xinhua that the day of blasts was her 30th birthday. "I just finished celebrating, when the building began to shake. I thought it was an earthquake," she said, sobbing. Her apartment was 10 kilometers away from the blasts site.
"The sky was lit up. It was horrible," she said. "It was my most unforgettable birthday. I will never be happy on my birthdays in the future."
At the TEDA Hospital, where the wounded were sent, more than 100 medical staff lit candles arranged as a heart outside the emergency hall.
At the Tianjin development zone fire station, hundreds of firefighters bowed to 29 photos of the firemen who died in the flames.
Two explosions ripped through a warehouse storing hundreds of tons of toxic chemicals last Wednesday night. Death toll from the accident has risen to 114, with 692 people hospitalized and 57 still unaccounted for.
Read more:
Ning Yu -- our son, the firefighter, the hero
Jiang Mingqiong and her husband, Ning Shaoyou, live in Deyang, southwest China's Sichuan Province. Their only child Ning Yu joined the army last year as a firefighter. He served in north China's Tianjin Municipality.
Ning Yu was one of the first firefighters to arrive at the site of the Tianjin warehouse blasts on Wednesday night. He was also one of the first to die in the line of duty, when a second explosion tore through the complex, killing Ning and four others and injuring 11 more.