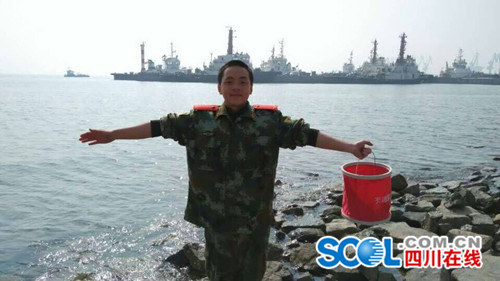 File photo of Ning Yu. (Photo/Scol.com.cn)
Jiang Mingqiong and her husband, Ning Shaoyou, live in Deyang, southwest China's Sichuan Province. Their only child Ning Yu joined the army last year as a firefighter. He served in north China's Tianjin Municipality.[Special coverage]
Ning Yu was one of the first firefighters to arrive at the site of the Tianjin warehouse blasts on Wednesday night. He was also one of the first to die in the line of duty, when a second explosion tore through the complex, killing Ning and four others and injuring 11 more.
The death toll from the last week's tragedy rose to 114 on Monday, 39 of whom are firefighters. It is believed that this is one of the biggest losses of firemen for decades.
Seventy people are still missing, 64 of these are firemen.
When collecting Ning's belongings, Ning's comrades found a notebook that he had used as an outlet to reflect on life, work and his role as a firefighter. The prose characterized his highly-motivated and diligent personality.
"On that day, we bid farewell. We may never meet again," Ning Yu wrote on Dec. 15, 2014, the day he finished his training.
Reading his words just nine months later, his parents were taken aback by the prophetic nature of their son's musings.
Ning's father learned about the Tianjin blasts on the morning of Aug. 13. His first thoughts were that his son might be involved in the rescue mission. But he was not worried about his son, even after telephone calls went unanswered.
"That was normal," he recalled. "They are not allowed to take their cell phones with them."
However, around 5:30 p.m. there was a phone call from Tianjin.
Ning's mother took the call. She was told that her son might have been injured in the blasts, and that she and her husband should go to Tianjin.
They rushed to be with their injured son, arriving in Tianjin early on the morning of Aug. 14.
It was not until the next day that DNA tests confirmed that Ning Yu was one of the fallen.