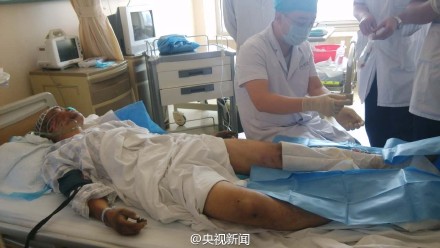 The 19-year-old firefighter was rescued at 7:05 a.m. Friday. (Photo/CCTV Sina Weibo account)
A survivor rescued at 7:05 a.m. Friday at the Tianjin blast site was identified as a firefighter. The search continues for those still missing, municipal authorities said.[Special coverage]
The 19-year-old firefighter, named Zhou Ti, is from the Binhai New Area brigade of Tianjin's fire department, Gong Jiansheng, a local publicity official, said at a press conference on Friday.
The firefighter has been sent to the Tianjin Teda Hospital, which admitted about 150 injured people. He is being treated in the thoracic surgery department and is in stable condition now, Gong said.
As of Thursday afternoon, 18 firefighters were still missing, the Ministry of Public Security said.
"Forces from all sides are searching for the missing firefighters," Tianjin's fire department head Zhou Tian (no relation to the rescued firefighter) said at the press conference.
As of 8 a.m. Friday, firefighters had saved 32 people from the site. More than 1,020 firefighters and 140 fire engines are still battling the raging fire, Zhou said at the press conference.
"When the blasts occurred, several firefighters were working to put out the fire as backup forces had just arrived. They were caught off guard, so the casualties are grave," he said.
Zhou said the rescue work has been hampered by the dangerous chemicals scattered at the site, which may trigger more explosions. Multiple minor explosions occurred many times during Thursday's rescue, which seriously threatened the safety of firefighters working at the site, Zhou added.
Damaged heavy containers at the site of the blasts have also caused more difficulties for the rescue, Zhou said.
A large area around the blast site has been affected, with scattered debris and glass and collapsed and damaged houses, Zhou said.
Zhou Tian said firefighters have been ordered to guard their own safety. All firefighters working at the scene of the blast should wear respirators. Those who enter the core area of the blast site are required to wear anti-chemical protective clothing, according to Zhou.
So far, three channels leading to the core areas of the blast site have been opened using forklifts and excavators. Firefighters are extinguishing the fire mainly using foamite and fire extinguishing agents while burying the dangerous chemicals with dry sand to prevent secondary disasters, Zhou added.
The enormous blasts, which occurred late Wednesday night, killed at least 50 people, including 17 firefighters. A total of 701 were injured, 70 of whom are still in critical condition.
Read more:
Over 700 casualties in Tianjin explosions
Blasts that tore through a warehouse in Tianjin's port area in north China on Wednesday night have killed at least 50 people, 12 of whom were firemen. Another 701 people are still in hospital, many gravely ill.
Emergency personnel are continuing the search for the missing firefighters, but this is already one of the biggest losses of firemen in the line of duty for decades. Of the hundreds injured, most suffering from burns or broken bones, 71 are critically ill.