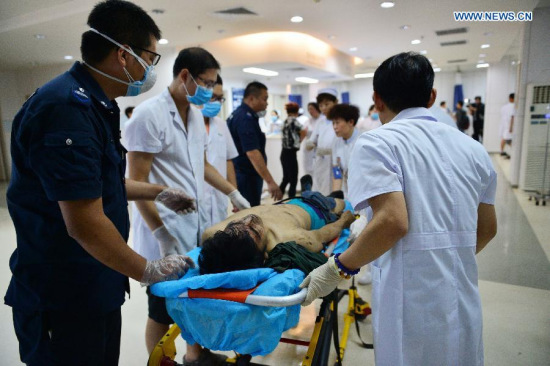 A man injured in the explosion of the Binhai new district is sent to the Tianjin Taida Hospital in north China's Tianjin Municipality, Aug. 13, 2015.(Photo/Xinhua)
Blasts that tore through a warehouse in Tianjin's port area in north China on Wednesday night have killed at least 50 people, 12 of whom were firemen. Another 701 people are still in hospital, many gravely ill.[Special coverage]
Emergency personnel are continuing the search for the missing firefighters, but this is already one of the biggest losses of firemen in the line of duty for decades. Of the hundreds injured, most suffering from burns or broken bones, 71 are critically ill.
Two blasts occurred around 11:30 p.m. in Binhai New Area and were so strong that they were registered as seismic activity by the national earthquake center.
Binhai New Area special economic zone is part of the Bohai economic rim and home to numerous Fortune 500 companies. A cluster of logistics companies operate in the area immediately surrounding the blast site and virtually everything within a three-kilometer radius as been damaged or destroyed: shipping containers lie crumbled on the dockside, port buildings are reduced to twisted metal frames.
About 1 km away are two residential communities where burned-out cars block the streets and broken glass litters the ground. Most of the dead and injured are migrant workers who live in these communities. Many fled their homes in pajamas after being thrown from their beds by the force of the blasts.
President Xi Jinping and Premier Li Keqiang have urged all-out efforts to save people and warned that "those responsible will be seriously handled".
Public Security Minister Guo Shengkun is on site and personally leading the emergency response.
The warehouse belongs to Tianjin Dongjiang Port Ruihai International Logistics Co. Ltd, a company licensed to store, distribute and import dangerous chemicals. The cause of the blast is still unknown but some company executives have already been detained by police. More than 1,000 firefighters were still battling flames on Thursday afternoon.