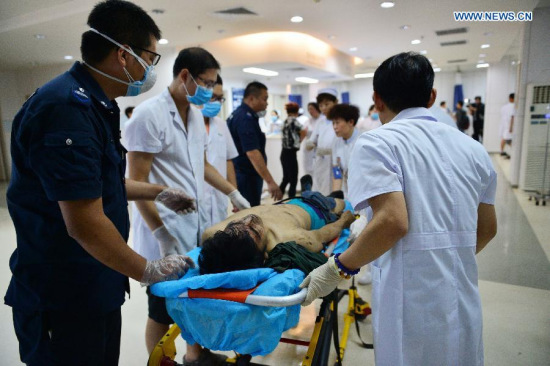 A man injured in the explosion of the Binhai new district is sent to the Tianjin Taida Hospital in north China's Tianjin Municipality, Aug. 13, 2015.(Photo/Xinhua)
BRAVING THE INFERNO
The city of Tianjin is home to around 15 million people. The road leading to the blaze remains impassable, and responders are only able to spray dry powder and foam from a distance.
A team of more than 200 military specialists in handling nuclear and biochemical materials has been sent to the northern city from Beijing to assist.
Injured people pack hospital emergency rooms. At the TEDA Hospital, which took in 150 casualties, a uniformed firefighter in his 20s was stretchered in. Gasping and coughing, face darkened by smoke, he found the strength to recount his ordeal: "It was complete darkness, smoke was everywhere. My buddies were badly injured, but I'm ok." He is being treated for toxic smoke inhalation.
The first explosion occurred at around 11:30 p.m. and about 30 seconds later, a second much more powerful blast sent doors and windows flying, engulfing cars and houses in flames.
As rescuers attempt to comb the area and assess the damage, rail links connecting downtown Tianjin and Binhai have been suspended. Shockwaves from the blast damaged the Donghai road terminal and supercomputer Tianhe-1 was shut down when the explosion damaged its building and support facilities.
LUCKY TO BE ALIVE
"I was asleep at home, when a blast of air burst in through the window. I looked out and saw a mushroom cloud like a nuclear blast," said a resident, whose home is a few kilometers away.
Driver Hu Xiaoliang was sleeping under his truck with three coworkers when they were blasted out of their slumbers. Loaded with charcoal, Hu's truck was parked just outside the door of the logistics company. "Now they are nothing but ashes," said the 32-year-old.
Every window in many apartment buildings has been shattered. Inside much has been destroyed and blood stains the floors.
An emergency center for aid distribution and blood donations was set up in a public aquarium. Many residents have decided to spend the night in tents, and nearby schools are open to accommodate the displaced.
"My son is in still in surgery. I called his name as I tried to escape, but he did not respond," said Zhang Shiyi, a migrant worker who lived about 200 meters from the warehouse. "I am lucky to be alive," he said.