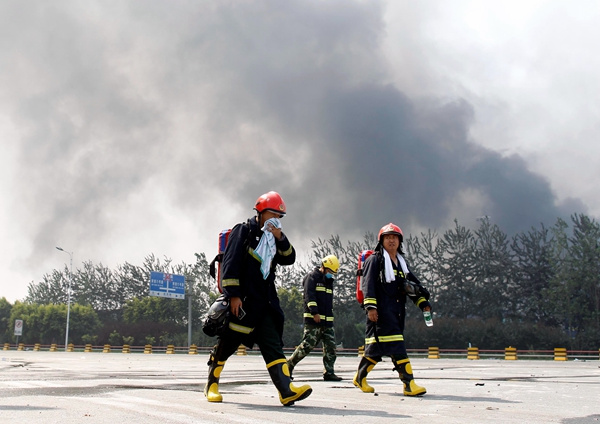 Firefighters return from the warehouse area, where they were involved in rescue operations.(ZHU XINGXIN/CHINA DAILY)
In a survey by People's Daily, Tianjin Binhai New Area ranked top among urban districts in China for attracting foreign investment in 2014.
Yang Hongshan, a professor of urban planning and management from Renmin University of China, however, argued that the damage to the local economy will be slight, and local economic competitiveness will still be strong, because "the local government will rebuild infra-structure facilities soon, and talent and favorable policies remain good".
Wang Guojun, an insurance professor at the University of International Business and Economics in Beijing, said insurance fees for trade and logistics companies are expected to surge, even in ports surrounding Bohai Bay.
"It's too early to say how much prices will go up, but transportation costs will definitely rise," he said.
"But the increase in insurance costs may not significantly affect Tianjin Port because its natural conditions, customs clearing and other services are still competitive."
He said automobile companies could face great losses as thousands of newly arrived automobiles parked at a logistics center near the blast are not likely to be covered by international transportation cargo insurance.
"But if the cars were to be transferred to another destination and only planned to stay temporarily in Tianjin, international transportation cargo insurance would still be valid."
He said Ruihai Logistics Co, Ltd, a company handling dangerous goods where the explosion occurred, could face bank-ruptcy if it is found responsible for the tragedy.
Other developments
· President Xi Jinping ordered authorities in Tianjin to spare no effort to treat the injured, search for the missing and contain the fire. Premier Li Keqiang vowed a thorough investigation and ensured open and transparent disclosure to the public.
· Senior managers of the logistics company where the blasts occurred were being held by police.
· Healthcare workers specializing in blast injuries and burns arrived from Beijing and were treating the wounded. Doctors said most of the patients suffered burns, bruises, bone fractures and injuries related to shock waves.
· A team of 214military personnel specializing in the handling of nuclear and biochemical materials arrived, and so far more than 1,000 firefighters, 151 fire engines and a drone have been sent to the scene.
· The Tianjin fire department said the fire was contained but will take a long time to fully extinguish because of the complex composition of the chemical elements. No more explosions were expected.