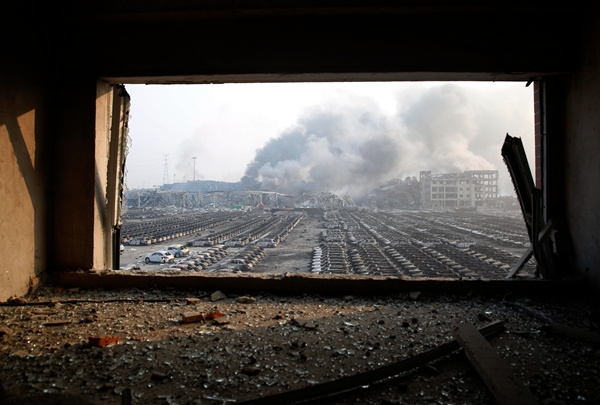 New cars are heavily damaged at a port next to the warehouse that exploded.(DAN HAIHAN/CHINA DAILY)
■ Casualties: At least 50 dead, including 17 firefighters. More than 700 injured, 70 of them severely, and 30 remain missing
■ What happened? Cause of the explosions at a warehouse in the Tianjin Binhai New Area has not yet been determined
Blasts near the world's fourth-largest port that killed at least 50 people and injured hundreds could strike a blow to the regional economy and dent the leadership's enthusiasm to turn the area into China's next economic front line, experts said. [Special coverage]
Cargo deliveries have been affected, and logistics in all of northern China delayed after at least two explosions went off in a warehouse handling hazardous materials in Tianjin Binhai New Area, 160 kilometers southeast of Beijing.
The blasts on Wednesday night caused millions of dollars in damage, burning cargo, turning nearby buildings and automobiles into charred shells and shattering windows several kilometers away.
Wang Xiaolei, a press officer at the Tianjin Maritime Safety Administration, said some deliveries have been disrupted, although Tianjin Port said in an earlier statement the terminal was operating normally.
BHP Billiton, which ships iron ore through the port, said that Beijiang-part of the port near the blasts-had ceased operations. The company said that although iron ore discharging berths were not damaged, traffic could be constrained for a while as Tianjin Customs offices were damaged.
Media officers at Tianjin Binhai New Area did not respond to China Daily's inquiries by press time.
Tianjin Port has an annual capacity of more than 540 million metric tons of goods from iron ore and oil to automobiles.
As the most convenient sea access for North and Northwest China, Tianjin Port operates at least 25 dry ports in 11 landlocked provincial areas to handle cargo locally and speed up customs clearance.
Sun Jiuwen, a professor of regional economy at Renmin University of China, said some deliveries to inland areas will be delayed, but he dismissed speculation that the blasts will impact local commodities prices.
The disruption won't last long, as surrounding ports can pick up capacity that could not be handled in Tianjin, he said.
Tianjin is one of only four cities in China directly governed by the central government. In 2014, President Xi Jinping proposed developing Tianjin, Beijing and nearby Hebei province into a trilateral economic sphere in the Bohai Bay area-an economic hub that may one day parallel the metropolises around the Yangtze River Delta and Pearl River Delta.
Sun said that the vision for a trilateral economic zone could be more difficult to realize if Tianjin's status as a logistics center is diminished.
"Even if we put aside the direct losses, including casualties, cargoes and infrastructure damage, the tragedy will severely strike the local economy, which heavily relies on the chemical, port and logistics industries," he said.