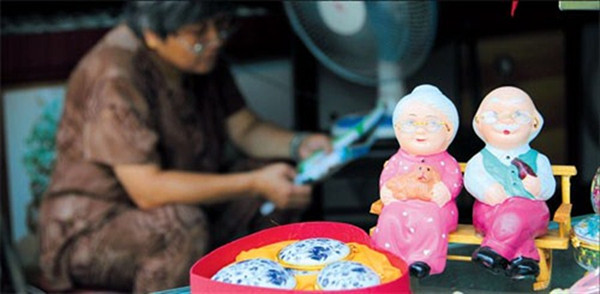 As Shanghai's population ages rapidly, senior care facilities are becoming popular. Yet construction work on a nursing home in Yangpu District had to be suspended earlier this year, following protests from nearby residents. This has led to questions over whether traditional respect toward the elderly is being lost. (Wu Hao)
Work on a nursing home project in Shanghai's Yangpu District has been suspended after nearby residents staged a protest against what they termed "old, sick people" living nearby.
Some have called the facility a hospice, likening it to a place where people simply go to die.
"We don't want to sleep near corpses, and we cannot psychologically accept this senior care home in our midst," said 70-year-old Xiao Hua, who lives in the nearby Xinyi Yayuan residential complex on Longchang Road.
A banner reading "Get out, dead people's home!" was strung across one building.
This reaction is strange, to say the least, in a country where old people have traditionally been revered and facilities for the aged are in acute shortage amid a rapidly aging population.
"We didn't expect this kind of local opposition," said Lu Yan, one of the managers involved in the project.
The site for the Yanji No. 2 Senior Home at 3531 Zhoujiazui Road was formerly a student dormitory that is now being converted into a 291-bed home for the aged. Work on the 30-million-yuan ($4.8 million) project began in March.
The project, scheduled to be completed by the end of this year, was approved by the Yangpu District government as part of a Shanghai's overall plan to address the shortage of senior care facilities.
The project site, which has been vacant since 2013, is owned by INESA (Group) Co, a state-owned assets management firm, and is now managed by INESA subsidiary Shanghai Cangxin Investment Management Consultation Co.
Work on the project was suspended less than two months after it began. Since then, there have been a number of community meetings involving the district civil affairs office, the property management company, construction authorities and residents. So far, the residents haven't budged in their opposition.
Residents said they weren't aware that the site would be turned into a senior care home until refurbishing began.
"It's too close to our community, which will make the area messy and noisy and affect our daily lives," said Huang Tongjun, a resident who lives in Xinyi Yayuan.
"We don't want to stand on our balconies and see old people with physical disabilities being treated," Huang added. "We don't want to hear their crying and the sounds of ambulances. The children's playground will be next door to the senior home, which will scare the children."
The residents said living near a facility that will be offering hospice care for the dying will be like living next to a mortuary.
Several residents assured Shanghai Daily reporters that they don't oppose the concept of facilities for the aged, but it's a matter of "not in my backyard." They complain their property values will drop, and illnesses like pneumonia may spread from the home to residential areas.
Cangxin will run the senior care home, with government subsidies.
Yangpu is an old industrial area of Shanghai, with large numbers of retirees, said Cangxin manager Lu. The area has an acute shortage of senior care homes, she said.