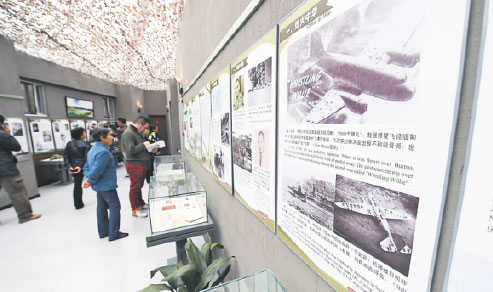 The memorial hall hosts an exhibition about the "Hump Airlift" in April. Photo by Sun Can / Xinhua
Severed lifelines
In July 1937, a gunbattle at Lugou Bridge - also known as the Marco Polo Bridge-in Beijing signaled the start of Japan's invasion of China. Although the Japanese occupied several major cities, including Beijing, Shanghai and Nanjing, the war quickly reached a stalemate.
The severing of all the supply lines on land and at sea left China isolated and in desperate need of supplies, without which it could not hope to survive.
The Hump Airlift was the only feasible response, but its success came at a high price and took a huge toll on both men and machines.
"China and the US allocated 2,200 aircraft and more than 84,000 people to transport more than 740,000 tons of supplies and 33,477 combatants via the Hump," Sun said. "Those airlifts became aerial lifelines for China."
The 100 aircraft owned by CNAC, the only commercial airline involved in the operation, transported 74,809 metric tons of supplies in 43,611 flights.
"The airlift was the longest, most dangerous and most difficult in the history of global aviation," Sun said. "Both countries made enormous sacrifices to achieve it."
According to the literature at the memorial hall, many pilots preferred to take the northern route, which was far more difficult to fly than the southern one, to avoid Japanese fighter planes. Irrespective of the route they chose, however, they still had to negotiate high mountains and contend with adverse weather conditions on the "Routes of Death", as many of the pilots called them.
"More than 1,500 pilots and aircrew members lost their lives in the Hump Airlift," Sun said. "More than 500 aircraft crashed, of which 468 belonged to the US. About one-third of the 103 pilots and aircrew employed by the China National Aviation Corp were Americans."
About 100 of the downed planes have never been located, meaning their crews have never been formally honored.