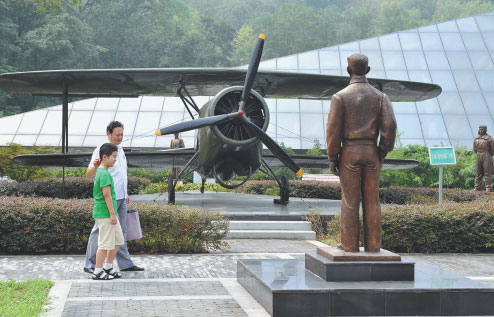 A father and son walk past statues at the Nanjing Anti-Japanese Aviation Memorial Hall. Photo by Sun Can / Xinhua
A memorial hall in Jiangsu province is hosting an exhibition to remember the bravery and skill of pilots from China, the US and other countries who risked their lives to take part in the most dangerous airlift of World War II. [Special coverage]
Liao Yongbao was 64 years old before he learned the where-abouts of his father's grave. That was in 2004, when Liao, now 75, first saw his father's name engraved on a black marble tablet.
Liao Jingcheng, who was killed in aerial combat on June 18, 1941, when his son was just 10 months old, is buried at the Nanjing Anti-Japanese Aviation Memorial Hall, a complex in Zhongshan, one of the most picturesque areas of the capital of Jiangsu province, surrounded by trees and bathed in melodious bird-song.
"After years of searching I finally found my father in the memorial hall," Liao said. "Tears streamed down my face as I read his name and the details of his life on the marble slab. I began to learn more about him when the workers sent me material related to him," he said.
"In 2009, the Jiangsu province government officially honored my father as a revolutionary martyr. Although I never had the chance to grow up with him, he will always be my hero."
The memorial hall holds the remains of 3,305 martyrs from the Japanese occupation of China: 2,197 of the dead were from the United States, 236 came from the former Soviet Union, and two were Korean nationals. The other 870 were Chinese.
The martyrs' cemetery, built by the government of the Republic of China, tells the story of how airmen from China, the US and the Soviet Union fought side by side against the Japanese.
The graveyard was badly damaged in the late 1960s, but in 1987 work began to restore it to its original glory, and construction of the memorial - 30 black marble tablets engraved with the names of the fallen in Chinese, English and Russian - was completed in 1995. A memorial plaza was added a short time later.
In 2008, the Nanjing government invested 40 million yuan ($6.4 million) to renovate and expand the hall, which was officially opened to the public in 2009.