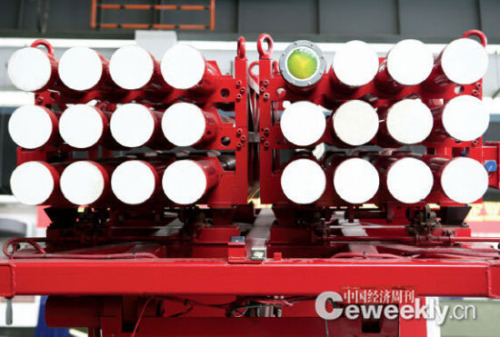 The undated photo shows a fire truck equipped with 24 missiles, developed by China Aerospace Science & Industry Corp (CASIC). (Photo/ceweekly.cn)
China Aerospace Science & Industry Corp (CASIC), the country's largest missile manufacturer, has developed a new missile to put out fire in tall buildings.
Special fire trucks equipped with the missiles made their debut in the just-concluded Civil-military Integration Development Exhibition of Technology and Industry for National Defence this July.
According to China Economic Weekly, the accurate system allows long-distance fire extinction in buildings above 100 meters high.
The system also costs less than imported high-end fire distinguishers.
For instance, a set of similar system from Finland costs some 20 million yuan, or, 3.2 million US dollars. A fire truck equipped with the homemade fire suppression missile only costs several mission yuan.
The missile system passed its initial test in Shaanxi province in September, 2013.