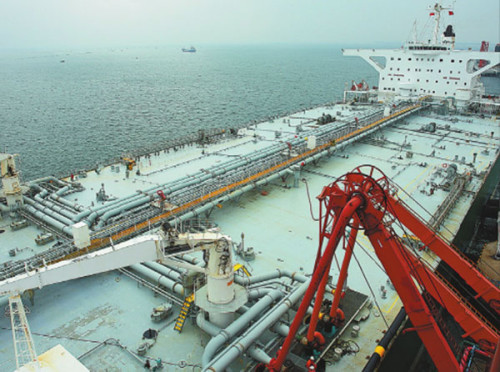 A crude oil tanker at Zhanjiang Port. As a key port city in South China, Zhanjiang is embracing a rapidly emerging ocean economy driven by maritime industries, port logistics and sea-related tourism. (Photo/China Daily)
Innovation partnerships
A number of industries in Zhanjiang have reached international levels, but technology, innovation, talent and the city itself have yet to catch up. The local government wants to boost the city's innovation capacity and technological contributions to economic growth by harnessing the research capabilities of the city's institutions of higher learning.
Among them, Lingnan Normal University, Guangdong Ocean University and the Zhanjiang campus of Guangdong Medical College all have strong research teams and valuable technological resources, and the local government wants them to help advance the emergence of Zhanjiang.
"Innovation is dependent on technology, education and talent, as well as support from institutions of higher learning. It is a prime time to deepen cooperation with these institutions," said Wang.
Creating a comprehensive intelligent manufacturing base is one of the technology goals for Zhanjiang in the near future.
In the next five years, the city's level of industrial development will be accelerated with the increasingly wider application of intelligent equipment and industrial robots, Wang said.
The goal of the city is to realize 2 billion yuan ($322.18 million) from the output of its intelligent equipment industry by the end of the year.
"The aim is to make Zhanjiang the most competitive and influential city in this particular industry in Guangdong province," said Wang.
The government also wants innovation to make the ocean economy a bigger contributor to local development.
Ocean economy
The local government is looking to extend the oceanic industrial chain and achieve well-structured oceanic industrial clusters, and it is accelerating the building of oceanic industrial parks and pushing forward the oceanic industry's development.
As a key port in South China and a gateway in the country's strategy for South China Sea, Zhanjiang is embracing a rapidly emerging ocean economy, driven by maritime industries, port logistics and sea-related tourism.
The State Oceanic Administration and Guangdong government have provided their support for Zhanjiang to become a model national ocean economy city.
Last year, China Ocean Economy Expo was held in the city. The expo showcased how the marine economy will play an important role in turning the country into a maritime power and pushing forward the initiative of the 21st Century Maritime Silk Road, said Zhang Hongsheng, deputy director of State Oceanic Administration, at the expo opening ceremony.
Wang said Zhanjiang's ocean economy has bright prospects and the city can benefit from the country's bid to enhance its marine scientific and technological level to become a maritime power in the world.
"We will take opportunities from the country's initiative of developing marine economy to make big strides in development," the mayor said.