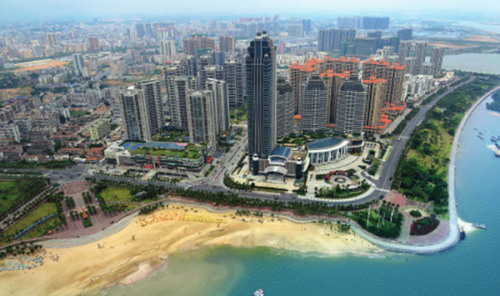 The port city of Zhanjiang is aiming to improve residents' quality of life, its economy and entrepreneurship through a new development plan. (Photo/China Daily)
Zhanjiang looking to write a new page in its development by harnessing cooperation between technology, talent, industries and institutions of higher learning.
Over the next few years, accelerating the development of new strategic industries and establishing an innovation and technology management system will be the main focuses for the city of Zhanjiang as it looks to tap the potential of the government's Belt and Road Initiative.
Wang Zhongbing, mayor of Zhanjiang, Guangdong province, said the city is preparing to take advantage of a golden age of development opportunities presented by the central government's initiative.
"China is going into a new stage of development; Zhanjiang, too, is entering a new stage," said Wang.
To write a new chapter in its development, the mayor said the city will open wider to the outside world by developing its deep water harbor and expanding its trade volume, especially with Belt and Road countries. It will also promote emerging industries and innovation as new drivers of the local economy.
"We'll build innovation into a driver for the economy. This is both the philosophy and strategy of our local government," said Wang.
This year, he said, Zhanjiang will not only write a new page in its efforts to improve residents' quality of life, but also a new page for its economy and its entrepreneurship.
"We want everyone not only to share in the city's success, but also to contribute to the city's success," he said.
To do this the local government is removing institutional barriers to research and development, and fostering the development of emerging industries such as industrial robots, marine equipment, cold chain logistics, biopharmaceutical and the recycling economy.
It is also promoting 3D printing, the mobile Internet, cloud computing and big data, bioengineering, new energy, new materials and other fields of development.
The focus is on developing integration chains for capital, innovation and industries.
"As one of the key cities on the path of the Belt and Road Initiative, we shall take advantage of the Guangdong-Guangxi Special Economic Corporation Area to better integrate with other cities in the Beibu Gulf Rim in terms of economic development," the mayor said.
Maritime Valley
The industrial clusters centered on the steel, petrochemical and papermaking industries that serve as the backbone of the city's economy are being established, now the local government is exploring ways to promote a closer alliance between technology and other industries to facilitate the city's development, Wang said.
One development strategy that is being put into practice centers on the acceleration of local and regional industrial transformation surrounding the Zhanjiang Bay area.
The Southern Maritime Valley will house a technology park, incubator and R&D zones and will be a cluster of high-level talents, technology and resources.
"It will be a realization of our vision for the future and means the city will be embarking on its journey of innovation," Wang said during a panel discussion earlier this month, in which entrepreneurial participants from South China's Guangdong commerce federation expressed their interest in investing in the city.
Industries such as maritime equipment, cold-chain logistics, information consumption, and biopharmaceutical are to be given priority.
"It will focus on the relations between the ocean and technology, and harness cooperation between technology, talent, industries and the city's excellent institutions of higher learning," said Wang.