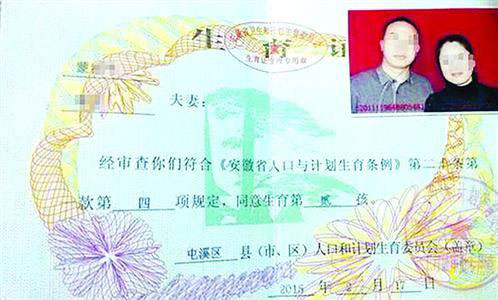 The birth certificate that Qin Yi holds, issued by Tunxi Family Planning Commission, Huangshan City of east China's Anhui Province on February 17, 2015. (Photo/Shanghai Morning Post)
Qin Yi, a pregnant high school teacher from Libo County, southwest China's Guizhou Province, was put in a position by the local family planning and education authorities in the county to choose between losing her job or terminating the life of her five-month-old fetus.
The Shanghai Morning Post reported that this is exactly what authorities in the Libo County told Qin Yi to do, but they had a dilemma of their own. On Feb. 9, one day before Qin started her second marriage with the baby's father, Meng Shaoping, the high school teacher moved her hukou, or permanent residence permit, to Huangshan in east China's Anhui Povince. There, she acquired official permission to conceive the child she currently carries.
Qin Yi has an older child from her previous marriage, as does Meng Shaoping from his first marriage. Under Anhui provincial policies, a couple starting a new marriage may have a child as long as the combined number of children from both partners' previous marriages is not more than two. However, under local policies in Guizhou, a couple starting a new marriage could acquire a birth certificate if at least one of the couple has not yet had any children.
Qin Yi re-registered her place of residence in Anhui Province, but still maintained employment in Libo County in Guizhou. Local family planning and education authorities thus issued an order, requiring Qin Yi either to abort before May 31 or quit her job as a high school teacher.
Qin Yi felt that, because she now holds an Anhui Province hukou, she shouldn't have to abort her child, but if it came down to quitting her job or keeping her baby, she would give birth at the cost of her job.
When news spread of a pregnant woman and her unborn child were caught in between the differing family planning policies of two provinces, there was public backlash against the call to abort the pregnancy by local authorities in the Libo County of Guizhou Province.
Responding to the criticism, Wu Dongmei, Discipline Inspection Head with the Libo Education Bureau, was quoted in the Shanghai Morning Post saying that if Qin Yi would like to find a new job in Anhui Province, the local educational authorities in Libo County would no longer interfere with her pregnancy issue. If not, then Qin Yi has an obligation to follow local regulations in Guizhou and choose between her baby and her job.
Snowballing into controversy and criticism, the case was eventually re-evaluated by the Guizhou Provincial Education Department and Family Planning Department.
Earlier this week, the department determined that Qin Yi can keep her job if she decides to give birth to her baby.
Guizhou authorities said that Anhui's rules could be applied to Qin Yi and said she would not have to lose her job.