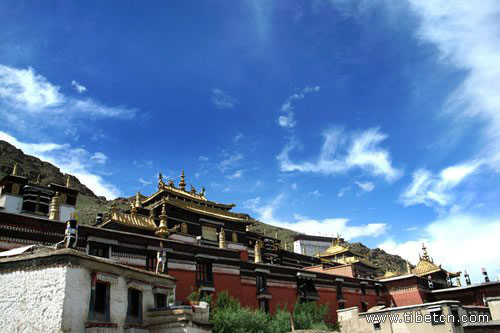 The file photo shows the Tashilhunpo Monastery, one of the famous tourist attractions in Xigaze, southwest China's Tibet Autonomous Region. (Photo/tibetcn.com)
A number of tourist attractions in the city of Xigaze in southern Tibet of China have reopened in the aftermath of the recent earthquakes across the border in neighboring Nepal. [Special coverage]
Li Junliang with the Xigaze Tourism Bureau says authorities have completed safety checks on the sites in the city.
"Some of the cultural attractions like Tashilhunpo Monastery, Sakya Monastery and Gyangtse Town are now open to tourists. Many tourists like to journey to Mount Qomolangma, as well as travel to the source of the Yarlung Zangbo River and see the area where the film 'Red River Valley' was shot. These area are safe."
Traffic into Xigaze was completely cut off after the initial quake in Nepal on April 25th.
Da Xing with the Xigaze Public Security Bureau says most of the main roads in region are now open.
"Along this circular route, except for the sections of Gyirong and Nyalam land ports which are under traffic control, other sections are open."
The city of Xigaze is the last major city on the route into Mount Qomolangma, or Mount Everest.
The earthquakes in Nepal have done sizeable damage on the Chinese side of the border in southern Tibet, leaving 26 dead and thousands of others homeless.