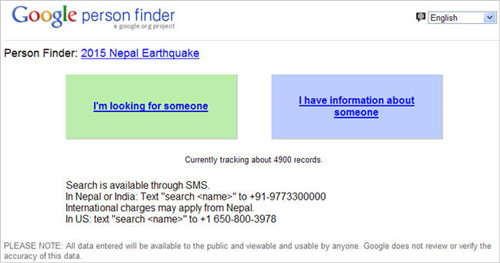 Google has once again opened its Person Finder application after the Nepal earthquake on April 25, 2015. (Photo/google.org)
After Saturday's massive earthquake in Nepal, Google and Facebook are providing check-in tools to help alleviate worries. [Special coverage]
Google has once again opened its Person Finder application, which functions as a crowd-sourcing missing people database.
Via the public database, people can search for information of a missing person by entering his or her name; or enter information for someone who has been found.
The database is currently tracking about 4,900 records related to the Nepal earthquake, according to Google.
Google first introduced Person Finder following the 2010 Haiti earthquake.
Facebook has a feature called Safety Check, which sends notifications to users who may be in the earthquake zone asking them "Are you safe?". Users can post their answers on their Facebook pages to let friends and families know their status.
Facebook launched Safety Check in October, 2014.