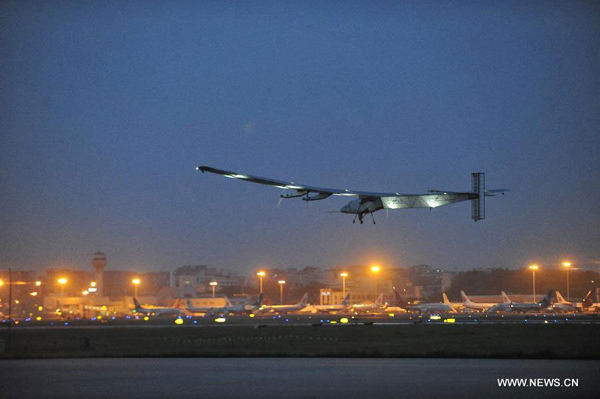 Solar Impulse 2 takes off from Jiangbei International Airport in Chongqing Municipality, southwest China, April 21, 2015. (Photo/Xinhua)
Solar Impulse II, the fuel-free airplane, has arrived in Nanjing and completed the sixth leg of its round-the-world flight.
"Hello Nanjing, hello China."
After a three-week-long delay due to the less than ideal weather conditions along the route, the zero-fuel airplane Solar Impulse 2 is now in the city of Nanjing, capital of Jiangsu Province.
Pilot Betrand Piccard set down the plane at 11:28 p.m on Tuesday, following a 1,240 kilometers journey from Chongqing.
He says now the first goal he set at the beginning of this year has been reached.
"We had three goals in the beginning of the year, we want the solar impulse to arrive the coast of Pacific in China, then to arrive in America, and then to be back in Abu Dhabi, finishing the entire circle. Today we have achieved the first goal."
The aircraft will remain in Nanjing for approximately 10 days before the first possible takeoff to cross the Pacific.
"Solar Impulse is in China, Solar Impulse is in Nanjing. And all the names will be ready in a couple of weeks. We will jump in the cockpit and cross the Pacific to Hawaii."
In the press briefing held today in Nanjing Lukou Airport, Ambassador of Switzerland to China Jean-Jacques de Dardel said that in the 65th anniversary of China-Swiss diplomatic relations Solar Impulse means a gift for the common and greener future of both countries.
"To be able to be here on the 65th anniversary of our close and productive Sino-Swiss relations, 65 years of being together and doing things together, it comes at the best of all time that Solar Impulse, maybe in a formula way, Switzerland's gift to our common future because we do have a common future and we must tend to that future by taking care of renewable energy ,protecting environment and having technology at the service of people."
He also added that Swiss is able to develop technology in the field of clean energy and they are expecting to join hands with China.