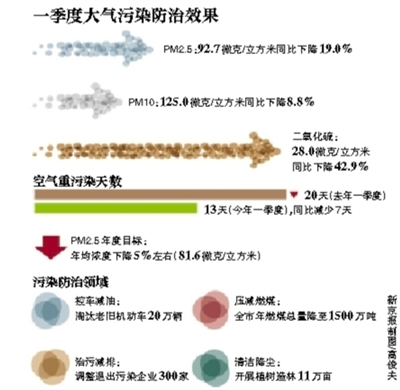 A chart shows Beijing's achievements in curbing air pollution in the first quarter of 2015, which is published on April 22, 2015. (Photo/bjnews.com.cn)
Beijing municipal authorities say that the city will consider implementing a congestion fee this year to try to ease traffic and curb air pollution.
For the first quarter of the year, Beijing has achieved some progress in improving the city's air quality. For instance, the average PM 2.5 concentration has witnessed a year-on-year drop of 19 percent down to 92.7 micrograms per cubic meter. Heavily polluted days have been reduced to 13 days, 7 days less than the same period last year.
However, it will still be a tough job to fulfill the target of a 5-percent year-on-year drop of average PM2.5 concentration for the whole year of 2015.
Chen Tian, Director General of the Beijing Municipal Environmental Protection Bureau, said that the city government has fixed 84 tasks as the priorities of the year to curb air pollution, which will focus on reduction of coal consumption, stricter control on the number of vehicles on the roads, further pollution control and reduction of greenhouse gas emissions, as well as dust cleaning.
A draft resolution on the congestion fee for Beijing's downtown area will also top the list of the government agenda for the year, where plans for a low-emission zone and vehicle congestion fee would be topics for discussion.
While details of the congestion fee are yet to be unveiled, early media reports say that local environmental officials have been consulting experts on whether to adopt a congestion fee scheme similar to that of London, England, or Milan, Italy.
In London, the congestion charge is only imposed in some parts of the low-emission zone in the downtown area, while a fee is collected from every driver entering the low-emission zone in Milan.
After four years of the fee in London, about 30 percent fewer cars were entering the fineable zone in the center of the city and there were fewer traffic accidents. The reduced number of cars also made way for more public buses.