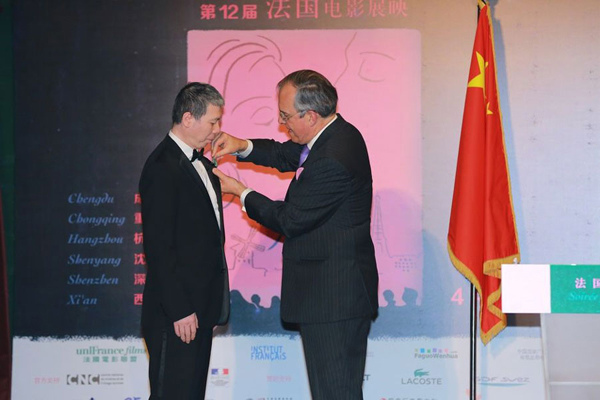 Chinese director Feng Xiaogang is awarded the Ordre des Arts et des Lettres in Beijing on April 18, 2015. (Photo/Xinhua)
Chinese director Feng Xiaogang was awarded the Ordre des Arts et des Lettres at the "Night of France" activity held on Saturday at the ongoing Beijing International Film Festival.
Feng Xiaogang, as the ambassador of this year's activity, said he hoped to recommend more and better French movies to Chinese audiences, in order to help promote the cultural exchange between the two countries.
He also mentioned that he wanted to shoot the third episode of his film "If You Are the One" in France if possible.
The Ordre des Arts et des Lettres award was established on May 2, 1957 by the French Ministry of Culture. It aims to recognize those who made significant contributions in the art and literature fields, as well as those who made great contributions in promoting the French culture to the world.
The Order has three grades, the Commander, Officer and Knight titles. Feng won the Knight title.