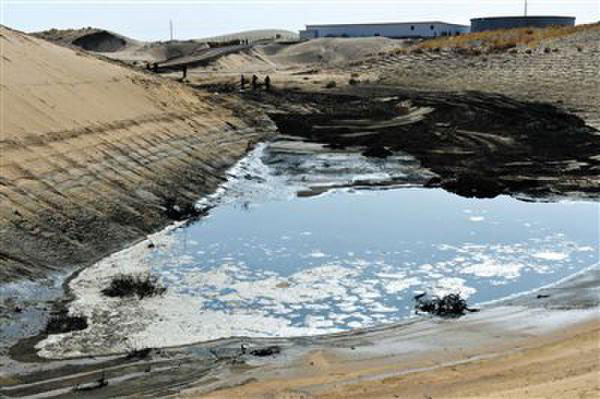 Untreated waste water is discharged into the Tengger Desert, Wuwei, Gansu, March 21, 2015. (Photo/Xinhua)
Authorities in northwest China's Gansu Province have admitted the provincial environmental protection department has loopholes in its supervision over the pollution of the Tengger Desert.
The comment comes as Gansu's provincial government briefed about the investigation into the pollution case.
Ronghua Industry and Trade Company, a firm based in the city of Wuwei, was found to have illegally discharged over 83,000 metric tons of untreated sewage into a pit in the desert since last May.
The sewage has contaminated about 18 hectares of land.
Liang Heping is the spokesperson of the Gansu government.
"Ronghua Company must take legal responsibility. The Party committee and government of Wuwei's Liangzhou district did not pay enough attention to the pollution and did not perform their duties accordingly. The provincial environmental protection department failed to conduct thorough inspection and supervision on high-risk companies. There are loopholes in their work. "
Liang says the authority in Wuwei concealed facts on purpose, adding that officials at the local environmental protection departments are now under investigation.
The company has been shut down and fined over three million yuan.
Two mangers have also been detained.
Most of the sewage has been transferred to treatment plants and the authorities are set to complete an impact assessment report by the end of this month.
Tengger Desert stretches across Gansu, NingXia and Inner Mongolia.
The case is the second involving illegal discharge of waste water to the desert.
The revised Environmental Protection Law was put into use earlier this year.