Chinese celebrities urge boycotting dog meat festival
2014-06-11 16:26
CRIENGLISH.com
Web Editor: Gu Liping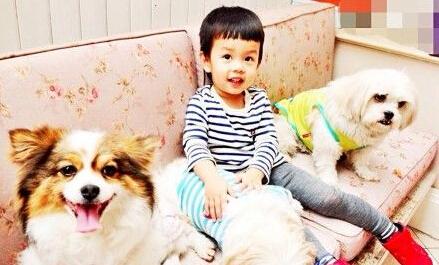 A photo showing Chinese actress Sun Li's son with his dogs. [Photo: Sun Li's account of Weibo]
Chinese actress Sun Li has joined many other Chinese celebrities calling for the boycott of a festival that serves dog meat in a city in south China, Tencent Entertainment News reports.
The annual dog meat festival in Yulin, Guangxi Zhuang Autonomous Region, is expected to kick off on June 21 this year.
Sun Li uploaded pictures of her son with his dogs on her Weibo microblog account on Monday afternoon and wrote, "The dog is man's most intimate and loyal friend, and I love dogs, I even regard them as part of my family. My children have learned love from the adoption of stray dogs. I hope people in Yulin, Guangxi will not indulge in eating dog any more."
Yang Mi, another Chinese actress, wrote on her Weibo account, "Dogs' loyalty is beyond my imagination. I treat a dog as a friend. I do not eat dog meat, and I oppose eating dog meat. "
Yang's post has been re-posted by Guo Jingming, a popular young Chinese writer and publisher. Guo commented that "A dog is a partner, friend, even a member of the family [and is valued] for its loyalty, dependability and protection."
During the annual dog meat festival, people in Yulin eat dog meat hotpot and drink lychee wine to celebrate the summer solstice, the hottest day of a year.