Li Na unveils new addition of biography after Aussie win
2014-02-24 16:57
CRIENGLISH.com
Web Editor: Gu Liping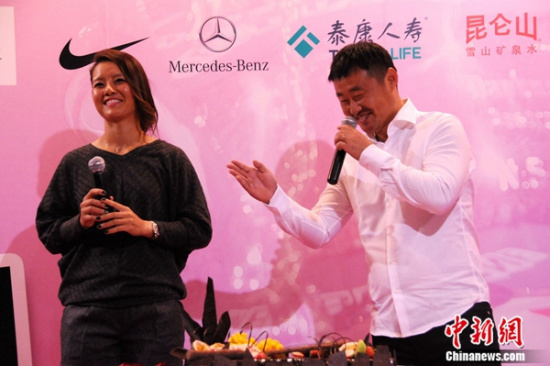 Li Na and her husband Jiang Shan appear at the new addition unveiling ceremony in Beijing on February 22, 2014. [Photo: Chinanews.com / Wang Muqing]
To celebrate her victory in Australian Open, Chinese tennis star Li Na unveiled the new addition of her biography book - 'My Life in Beijing" on Saturday.
Li Na won the women's title in Australian Open last month at Melbourne Park after beating Dominika Cibulkova of Slovakia.
The Chinese player has spent much of her spare time in charity events.
"I hope that I can help as much as possible those who need help when I am able to do it. I think everything will be answered for, no matter good things or bad things. So, when those kids grow up, they will give back to the society because they have been helped when they are young."
Li Na is the first Asian tennis player that has won two Grand Slams and currently she is also at her career high number two of WTA ranking which is also unprecedented in Asia.
Currently, Li Na is training in Beijing but she has to do it at indoor courts due to the bad air pollution in the Chinese capital.
Her next tournament is the BNP Paribas Open at Indian Wells in the USA in early March.