Three fall from amusement park's high-speed windmill in Xi'an
2013-09-16 13:25
CRIENGLISH.com
Web Editor: Wang Fan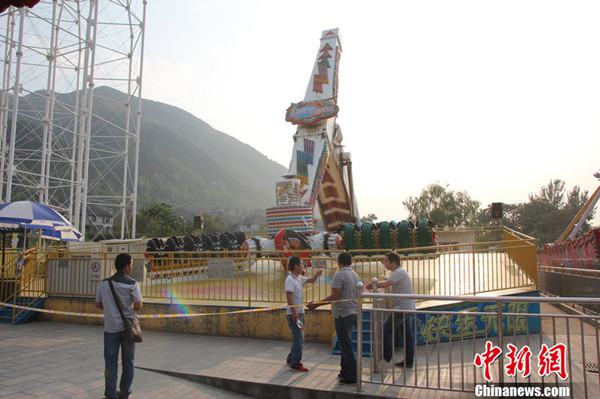 The amusement park ride is shut down after an accident that severely injured three people in Xi'an, Northwest China's Shannxi province on Sunday, Sept 15, 2013. [Photo: CFP]
Qinling Amusement Park has been temporarily shut down after three people were thrown from a high-speed, windmill-like ride on Sunday in Xi'an, northwest China's Shannxi Province. The injured are currently undergoing emergency treatment, reports the Beijing Times.
Wang Hang witnessed the tragic accident, recalling how he sat helplessly as the three were flung from the ride. "It was horrible. The three people were on the same line of seats as I was. I saw them fall, but couldn't do anything," said Wang Hang.
One victim, who the reports identifies only as Wei, is currently undergoing emergency live-saving treatment after the ride accident left her with bone fractures from head to toe. Another victim, a 14 year old boy, is being treated for severe injuries, while the third is in stable condition after being treated for multiple fractures to the face and mouth.
A preliminary investigation ruled that a mechanical failure caused the tragic accident. Qinling Park documents show that the ride that severely injured three people passed a safety inspection conducted just last month.
A park-goer sitting with Wang Hang said that the ride's staff failed to check their safety harnesses before the ride started. When the people she was sitting with tried to get the staff's attention about the situation, the ride already started. "Before we could question the staff, the ride started to go. Then the most horrible thing happened. We shouted 'help,' but they didn't hear us down on the ground," said the tourist, who was not identified by name in the report.
Operations at Qinling Amusement Park have been suspended indefinitely.