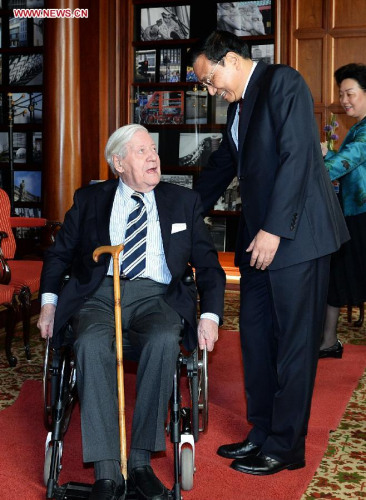 Chinese Premier Li Keqiang (R, front) meets with former German Chancellor Helmut Schmidt in Berlin, capital of Germany, May 27, 2013. (Xinhua/Li Tao)
Chinese Premier Li Keqiang hailed on Monday former German Chancellor Helmut Schmidt's contribution to the development of China-Germany relations.
He made the remarks while meeting with Schmidt in the German capital of Berlin.
Li said Schmidt is an old friend of the Chinese people, as well as a pioneer and promoter of the bilateral ties, adding that he also made important contribution to European integration.
As the world is undergoing complex political and economic transformations, China is ready to enhance cooperation with Germany and Europe to safeguard common interests, boost common development and bring benefits to the two peoples, said Li.
For his part, Schmidt expressed admiration for China's achievements in economic and social development.
He said he is happy to see the comprehensive development of Germany-China relations and will continue to play a role in strengthening the friendship between the two countries.
Schmidt, who served as chancellor from 1974 to 1982 in what was then West Germany, is one of the most respected statesman in Germany.