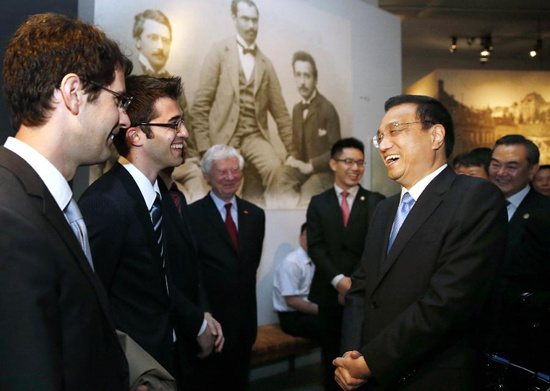 Chinese Premier Li Keqiang (R, front) talks with local residents as he visits the Einstein museum in Bern, Switzerland, May 25, 2013. (Xinhua/Ju Peng)
Chinese Premier Li Keqiang on Saturday stressed the significance of innovation and called for more technological cooperation between enterprises.
Innovation can create immeasurable wealth, Li said during a visit to the Einstein House museum in the Swiss capital of Bern, the residence of Albert Einstein from 1903 to 1905.
Protection of intellectual property rights must be stepped up so as to rev up the passion of innovators and make sure that they receive merited returns, added the premier.
He also encouraged enterprises to pay attention to technological cooperation and come up with products that are both technologically advanced and aligned to market needs.
The Chinese government, he said, has put forward a series of measures to boost technological innovation, and welcomes investment by Swiss and European companies.
Commenting on Einstein's life and research, Li said the story of Einstein shows that no innovation would be possible without imagination and that no great achievement would be possible without hard work and persistent learning.
Later Saturday, Li flew to Germany to continue his first overseas trip as premier, which has already taken him to India and Pakistan.