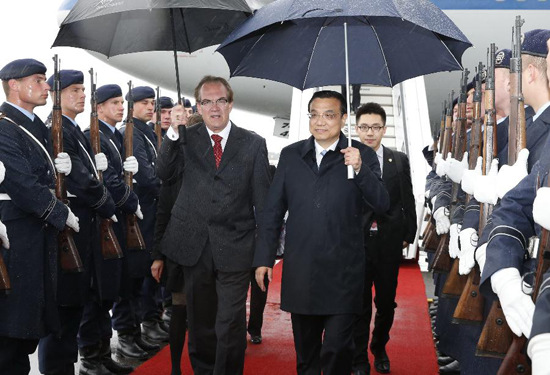 Chinese Premier Li Keqiang arrives at the airport in Berlin, capital of Germany, May 25, 2013, starting an official visit to the European country. (Xinhua/Ju Peng)
Chinese Premier Li Keqiang arrived in Berlin Saturday for an official visit to Germany, the only European Union country included in his first overseas tour since taking office.
"Germany is the first EU country I visit since taking office as Chinese premier, which shows that the new Chinese leadership highly values China's relations with Germany and Europe," Li said in a written statement released upon arrival.
Both China and Germany are countries with important influence in the world, and it is China's strategic choice and long-term policy to develop friendly cooperation with Germany, Li said.
China, he said, is ready to work with the German side to enhance mutual understanding and trust, expand cooperation and strengthen communication and coordination on global and regional affairs, so as to advance their strategic partnership as well as China-EU ties.
Li will meet with President Joachim Gauck and hold talks with Chancellor Angela Merkel. He will deliver a speech at a business luncheon and make extensive contacts with German political and business figures.
Also, Li and Merkel will officially launch "the Year of Languages" program between China and Germany, an initiative meant to encourage the two peoples to study each other's language.
To further expand bilateral cooperation, a series of documents will be signed regarding cooperation in such fields as energy conservation, environmental protection, investment, agriculture and education.
Germany is the last leg of Li's ongoing trip, which has taken him to India, Pakistan and Switzerland.