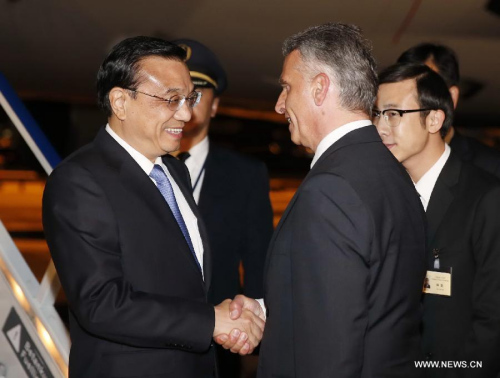 Chinese Premier Li Keqiang (L, front) is welcomed by Swiss Vice President and Foreign Minister Didier Burkhalter, upon his arrival in Zurich, Switzerland, May 23, 2013. Li Keqiang arrived here Thursday evening for an official visit to Switzerland. (Xinhua/Ju Peng)
Chinese Premier Li Keqiang arrived in Zurich on Thursday evening for an official visit to Switzerland, his first trip to Europe since he took office in March.
"The choice of Switzerland as the first destination for my first European trip since I became Chinese premier means that I hope to strengthen bilateral high-level exchanges, achieve new breakthroughs in mutually beneficial cooperation, enhance understanding and friendship between the two peoples and promote the long-term healthy and stable development of our friendly relations," Li said in a written statement upon his arrival.
He noted that Switzerland is among the first Western countries to establish diplomatic ties with China and an important European partner of China in economic, technological and financial cooperation.
Li is scheduled to meet with President of the Swiss Confederation Ueli Maurer, Vice President Didier Burkhalter and Head of Federal Department of Economic Affairs Johann Schneider-Ammann.
The two countries are expected to sign a series of agreements to strengthen cooperation in various areas.
On the eve of his visit, Li published a signed article in Neue Zuricher Zeitung, a German-language Swiss daily, highlighting the importance of a free trade agreement (FTA) that is to be reached between the two countries.
"With the advent of FTA, Switzerland will become the first country in continental Europe and the first of the world's top 20 economies to reach an FTA with China, the implications of which will be significant," Li said.
China has become Switzerland's largest trade partner in Asia, while Switzerland is China's seventh largest trade partner and the sixth largest source of foreign investment in Europe.