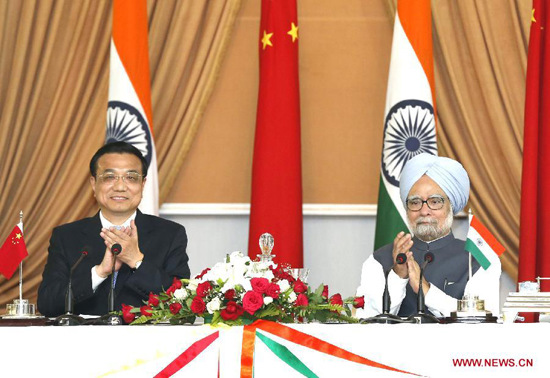 Chinese Premier Li Keqiang (L) and Indian Prime Minister Manmohan Singh jointly meet the press after their talks in New Delhi, India, May 20, 2013. (Xinhua/Ju Peng)
Visiting Chinese Premier Li Keqiang said here Monday that China and India have established principles of settling the border issue that is left over by history.
"Both sides believe that we need to improve the various border-related mechanisms that we have put into place and make them more efficient, and we need to appropriately manage and resolve our differences," Li added.
Li made the remarks to the press after holding talks with his Indian counterpart Manmohan Singh.
"We have worked together to maintain tranquility and peace in the border areas," he added.
Noting that he has held multiple, friendly, in-depth and candid talks with Singh and other Indian officials since his arrival, Li said the most important outcome of these meetings is that the leaders of the two countries have reached strategic consensus and deepened strategic trust.
Li arrived in New Delhi Sunday afternoon. He and Singh have met twice within the past 24 hours, highlighting the importance the two countries have attached to promoting their strategic cooperative partnership.
After his stay in India, Li will also visit Pakistan, Switzerland and Germany.