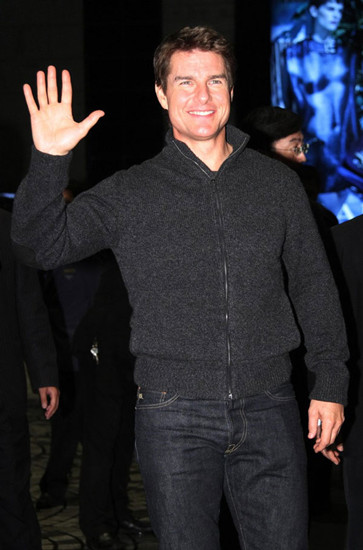 Actor Tom Cruise arrives in Taipei on April 5, 2013. He was in Taipei to promote his new film "Oblivion". [Photo: Udndata/Imagine China]
Celebrated Hollywood actor Tom Cruise was in Taipei over the weekend promoting his new film "Oblivion". Aside from promoting his latest project, Cruise also got the chance to learn how to make xiaolongbao, a type of steamed bun that is widely eaten by Chinese people.
Sporting a white apron, the action star appeared at a restaurant in Taipei on Saturday, April 6, and showed off his softer side by successfully making a small xiaolongbao bun. He joked to the press, "Maybe I can get a job here."
Cruise arrived in Taipei on April 5. Despite the fact that his plane was delayed for two hours due to heavy rain, large groups of fans still braved the weather to welcome his arrival at the airport and at his hotel.
It has been 12 years since Cruise last visited Taiwan.
In "Oblivion", Cruise portrays a soldier in the future who is on a special mission that leads him on a journey of redemption as he battles to save mankind. The film also stars Olga Kurylenko and Morgan Freeman, and is directed by Joseph Kosinski.
"Oblivion" will open in Taiwan on April 11.