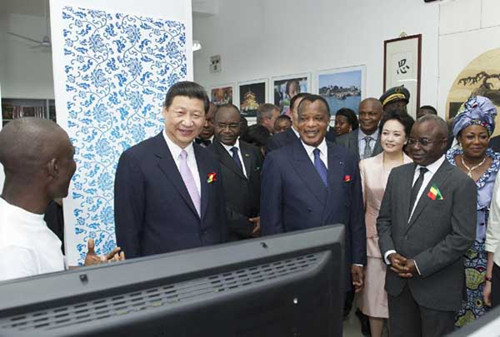 Chinese President Xi Jinping (2nd L) and his wife Peng Liyuan (3rd R), accompanied by Denis Sassou Nguesso, the president of the Republic of Congo, and his wife Antoinette, communicate with Chinese-learning students and teachers when attending the inauguration ceremony of the library of the Marien Ngouabi University as well as its China Reading Room in Brazzaville, capital of the Republic of Congo, March 30, 2013. (Xinhua/Huang Jingwen)
Later in the day, Xi and Sassou-Nguesso attended the opening ceremony of the Marien Ngouabi University library, which was built with Chinese aid.
The new library, the sole modern building at the only Congolese public university, features a Chinese section where the faculty and students can get to know China via books, disks and TV programs.
In talks with Congolese teachers and students, Xi encouraged them to learn Chinese and carry on the friendship between China and the Republic of the Congo.
On Friday afternoon, Peng, who is a World Health Organization goodwill ambassador for tuberculosis and HIV/AIDS, traveled to an orphanage in Brazzaville and visited the children there, especially those infected with HIV.
She donated computers, toys and schoolbags to the center, and extended her appreciation to its founders for their contribution to the fight against AIDS.
The Republic of the Congo was the last leg of Xi's maiden foreign trip as president, which had taken him to Russia, Tanzania and South Africa.
While in South Africa, he attended the fifth summit of BRICS, an emerging-economy group consisting of Brazil, Russia, India, China and South Africa.
Special Report: