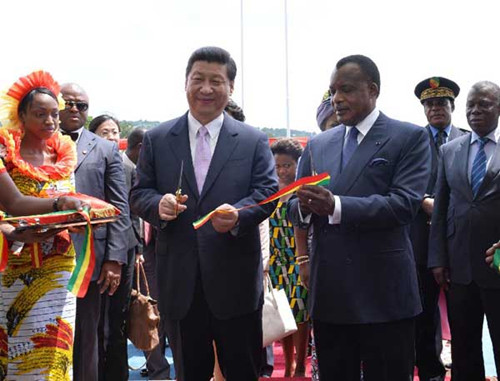 Chinese President Xi Jinping (L front) and Denis Sassou Nguesso (R, front), the president of the Republic of Congo, attend the completion ceremony of the China-Republic of Congo Friendship Hospital project in Brazzaville on March 30. (Xinhua)
Chinese President Xi Jinping on Saturday encouraged his country's medical volunteers in Africa to make more contributions to the improvement of local health care services.
Xi made the remarks when addressing a Chinese medical team here at the newly-built China-Congo Friendship Hospital, which he and Congolese President Denis Sassou-Nguesso had just inaugurated.
China's medical aid for Africa is a demanding but honorable undertaking, said Xi, while thanking the volunteers for the outstanding services they have provided for the local residents and the high honor they have earned for their country.
He noted that Chinese medical teams have braved the harsh natural conditions and other difficulties and made important contributions to China-Africa friendship.
Hailing the noble work of these teams as an embodiment of the Chinese national ethos, Xi encouraged them to continue to uphold the spirit of internationalism and humanitarianism, carry on the lofty cause and help further consolidate China's friendly ties with the Republic of the Congo and the whole Africa.
For his part, Sassou-Nguesso lauded the selflessness and excellence of the Chinese medical volunteers and thanked China for the benefits they have brought to the Congolese people.
Xi's wife, Peng Liyuan, witnessed the inauguration of the hospital, which was constructed with Chinese support. Among other participants in the ceremony were leaders of both chambers of the Congolese parliament, all Congolese government ministers and more than 30 foreign diplomats.