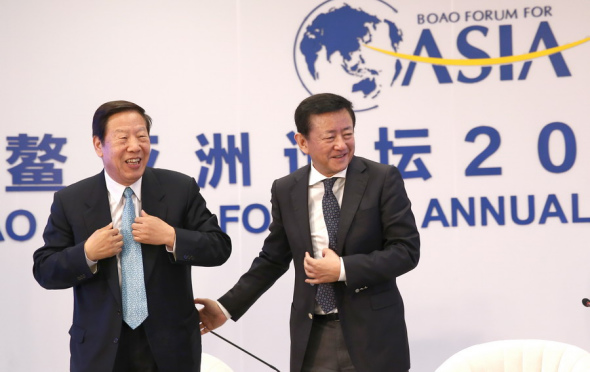 Fan Gang (right), director of the National Economic Research Institute, and former central bank governor Dai Xianglong at the Boao Forum for Asia on Monday. (Photo by Zou Hong/China Daily)
China capable of handling challenges including possible market fluctuations
Sino-U.S. trade conflicts will never constrain China's efforts to push forward economic structural reforms, economists said on Monday at the Boao Forum for Asia in Hainan province. [Special coverage]
Last week's tit-for-tat moves between China and the U.S. are a reflection of fundamentally unbalanced economic development, and China should focus on its long-term interests, sustainable growth, restructuring and further opening up, Fan Gang, director of the National Economic Research Institute, told China Daily in an exclusive interview during the forum.
With the opening-up experience in the past decades, China is in a stronger position to deal with risks including possible market fluctuations caused by trade conflicts, "and that means we can open further", said Fan.
President Xi Jinping will provide a new policy blueprint on Tuesday at Boao, when participants gathering in the coastal city are expecting to hear of more opening-up and reform measures that the country will take.
China's economy has hit the bottom of the so-called L-shape growth trend, according to Fan, although an immediate rebound is less likely. "We are in a process of bumping at the bottom, a normal process of the economic cycle, which can be seen as an opportunity to fix China's own problems, such as overcapacity and financial risks, then we can have a better growth in the next stage", he said.
The country's potential economic growth rate could be between 5 to 6 percent in the coming years, mainly driven by domestic consumption rather than depending on exports or investment, former central bank governor Dai Xianglong said at the forum on Monday.
Closing more indebted manufacturers with overcapacity is inevitable during the economic restructuring and quality-upgrading process, pushing debt risk management, especially for non-financial enterprises, to be one of the policymakers' priorities, said Dai.
He suggested launching specific laws on debt restructuring as soon as possible. "I have confidence on taking market-oriented measures to tackle debt risks."
The former central bank governor stressed the debt-to-equity swap program and more capital injection from the government.
Given the less-developed financial sector compared with the globally advanced level, Dai called for the strengthening of Chinese securities companies, a way to enhance direct financing and facilitate deleveraging. He also suggested to continue encouraging institutional investors and optimizing a multi-level capital market structure.
Zhang Yuyan, director of the Institute of World Economics and Politics at the Chinese Academy of Social Sciences, said at the forum that China proceeds with opening up measures at its own pace, which will benefit the regional economy in Asia, especially neighboring countries, although other potential risks may emerge in Asia, including the tightening of major economies' monetary policy.