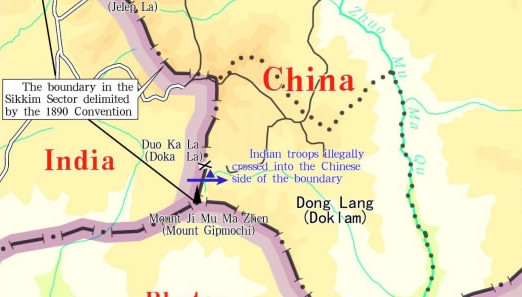 (Photo via CGTN)
U.S. experts have urged Indian troops to withdraw from the intruded Chinese territory and also called the two countries to resolve the issue diplomatically.
Indian troops illegally crossed into the Sikkim section of the border between the two countries to Doklam, Chinese territory, in June, in an attempt to stop China's road construction going on there. The action drew strong protests from China.
New Delhi has described China's road construction as a "significant change of the status quo with serious security implications for India", citing its geographic proximity to its vulnerable "Chicken's Neck" — the narrow stretch of territory connecting the majority of India to its more remote northeast areas.
Chinese Foreign Minister Wang Yi told reporters in Bangkok on July 24 that it is very clear who is right and who is wrong in the standoff in Doklam, and that even senior Indian officials have publicly said that Chinese troops have not intruded into Indian territory.
"In other words, India admitted that it has entered Chinese territory. The solution to this issue is simple, which is that they behave themselves and withdraw," Wang said, as quoted in a Chinese foreign ministry's statement.
Jon Taylor, a professor of political science at the University of St Thomas in Houston, said the Indian military breached both international law and treaty convention by entering Chinese territory shortly after their Prime Minister Narendra Modi visited the U.S..
"The incursion can be viewed as part of a greater strategic competition between China and India, one that is influenced by Trump's push for a closer partnership with India," he said.
Taylor said that despite India's actions, China has remained restrained and tolerant. "I believe that this is because China wishes to preserve friendly China-India relations," he said, adding the need for a swift resolution of the issue is clear.
But he said India does not understand the breadth of China's established presence on the Donglang(Doklam) Pass, nor its resolve to maintain its presence in the Donglangregion since it is indisputably a part of China's territory and under its effective jurisdiction.
"India would do well to remember China's response and resolve during the 1962 border war. Continued provocations could lead to a much wider, and uglier, conflict that would inevitably result in a Chinese victory, again".
Ryan Hass, a foreign policy fellow at the Brookings Institution, said although the timing and final contours for resolving the dispute remain as yet unknown, there is cause for cautious optimism that the two countries have the wisdom to peacefully resolve the dispute.
"Chinese and Indian leaders are among the most talented and creative diplomats in the world," he said.