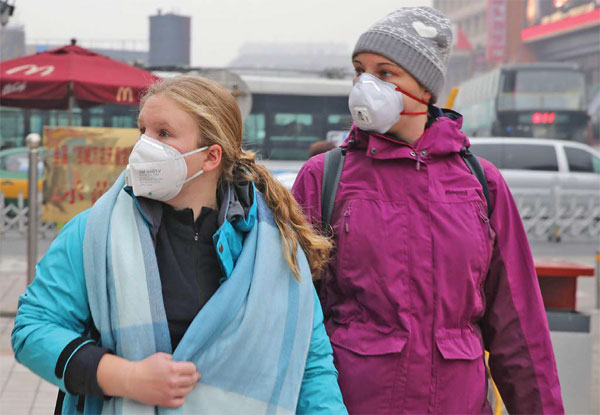 China has been watched closely by foreign job applicants in recent years due to the rapid development of its economy and its openness to overseas talent, but air pollution has hurt the recruitment. (Photo provided for China Daily)
The simmering groundswell of voices urges emerging economies such as China and India to take the lead in addressing global issues. But there are deeper imperceptible challenges at home that demand immediate and greater attention from China and India. Air pollution is one such challenge as it has dangerous implications for public health, especially in metropolises such as New Delhi and Beijing.
According to the State of Global Air Report 2017, issued jointly by the Health Effects Institute (Boston) and Health Metrics and Evaluation (Seattle) on Monday, long-term exposure to PM2.5 (inhalable particulate matter with a diameter of 2.5 micrometers or less) contributed to 4.2 million deaths across the world in 2015. And China and India accounted for 52 percent of the total deaths attributable to PM2.5.
The number of deaths for India had stayed below that of China by roughly 100,000 since the early 1990s. But while the number for China has "stabilized", it continues to increase in the case of India.
Although it is difficult to establish any direct link between air pollution and deaths or measure the precise economic cost of air pollution, a World Bank report said India lost 8 percent of its GDP, or more than $560 billion, in 2013 because of air pollution-related deaths, lost work hours and increased healthcare costs.
Owing to their common interest in fighting air pollution, and to reduce the number of pollution-related deaths, China and India should work together, despite their differences.
Being a strong promoter and defender of the "common but differentiated responsibilities" principle at climate change conferences, China should take the first step to initiate talks with India on how to jointly address air pollution, especially in urban centers.
China has revamped its regulatory systems, pulling high-emission vehicles off the road, encouraging production and use of environmentally-friendly cars and improving the healthcare system to address pollution-related chronic obstructive pulmonary diseases (or chronic bronchitis and emphysema) which have seen a steep increase in India.
India can also learn from China's regulations for sales and setting off of fireworks during Spring Festival to take similar measures to diminish Indians' obsession with firecrackers that sent PM2.5 soaring in cities like New Delhi during Diwali, or festival of lights, in November.
Closely linked to air pollution is the problem of passive smoking, which accounts for the deaths of about 6 million people worldwide every year. China and India together have more than 500 million tobacco users. According to the World Health Organization, tobacco use on average reduces life by about 7.5 years. This is another healthcare issue the two neighbors could address together. In this case, too, the two countries could learn from each other, as China seeks to tighten its anti-smoking laws and India struggles to effectively implement its existing stringent laws and promote public awareness about the harmful effects of tobacco use. By working on such joint healthcare strategies, the two neighbors could, in the long run, enhance their mutual understanding and trust.
The author Swaran Singh is a professor at Jawaharlal Nehru University, New Delhi.