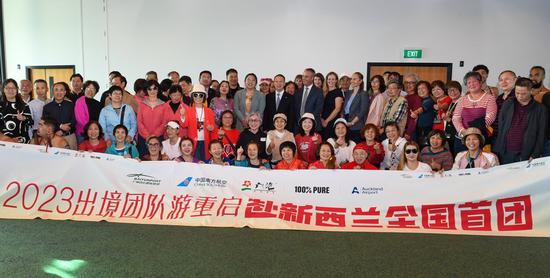 Chinese tourists take part in a welcome ceremony at the Auckland Airport in Auckland, New Zealand, March 3, 2023. (Xinhua/Guo Lei)
A group of Chinese tourists on board the China Southern Airlines CZ305 that arrived at the Auckland Airport Friday evening was welcomed at a special ceremony with gifts and traditional performances.
The tour group of 61 Chinese travellers is the first official Chinese tour group to arrive in New Zealand since early 2020.
Tourists in this tour group have been waiting for their New Zealand trip for a long time. Sixty-seven-year-old Wang Li and her husband were excited to kick-start their first international trip in three years. "New Zealand has been our life dream destination for many years," she said.
Jiang Weizu, 76, is the eldest in this tour group. He has several hundred social media followers who want to watch him travel through live-streaming. "I booked my New Zealand trip three years ago before the COVID-19 pandemic. Now that I am finally here, my followers can't wait to watch my live-streaming from New Zealand," said Jiang.
New Zealand's government officials, Chinese embassy representatives and business leaders welcomed the tour group at the airport. Pounamu (New Zealand greenstone jade) pendants and New Zealand-China diplomatic relations 50th anniversary first-day covers were presented to the tourists as gifts at the ceremony, which also featured New Zealand traditional Maori performances.
Counsellor Dong Zhixue from the Chinese Embassy in New Zealand said the landing of the first tourist group marks a historic moment in the resumption of tourism cooperation between China and New Zealand. The tourism industry is significant in promoting people-to-people exchanges between the two countries.
"Every Chinese tourist is a people ambassador of China-New Zealand friendship," said Dong.
On behalf of Tourism Minister Peeni Henare, New Zealand Member of Parliament Naisi Chen said, "we are pleased that China has resumed outbound groups and has chosen New Zealand to be one of 20 countries under the new pilot program."
The tourism relationship with China is important to New Zealand, and the New Zealand industry will be excited to welcome back Chinese tourists, Chen added.
Before the pandemic, China is an important tourism market for New Zealand. In 2019, New Zealand welcomed 400,000 visitors from China, making it the country's second-largest visitor market. The country remained committed to the China market and worked hard over the pandemic to maintain its appeal.
At the welcome ceremony, Angela Blair, general manager of the International of Tourism New Zealand, said they are very excited to welcome back Chinese visitors with restrictions being lifted and group travel possible again.
"Your visit will take you to many beautiful regions across the country, and we hope that you have the opportunity to experience all that New Zealand has to offer - our unique wildlife, spectacular natural landscapes, adventure offerings, distinct local culture, fine food and wine, and a very special type of hospitality that we call manaakitanga," she said.
Scott Tasker, Chief Customer Officer at Auckland Airport, said that across March and through into early May, the three airlines currently connecting Auckland with the Chinese mainland - China Southern, China Eastern and Air New Zealand - are all bringing on more flights to them.
"It will provide a late summer boost to the tourism sector. As we roll out of the summer peak into the autumn shoulder season, which we all know is a fantastic time to visit New Zealand, we start seeing some of the North American seasonal services reduce. The arrival of more capacity from the Chinese connections will help smooth the cycle and extend the summer season for our local tourism operators," said Tasker.
From late March, passenger flight services between China and New Zealand will increase. Besides the tourists boost, the increase in flights means that air freight capacity between the two countries will grow.
China is Auckland Airport's second-largest air freight market, with volumes growing 13 percent year-on-year and up 5.5 percent from 2019 despite COVID-19 restrictions.
With the belly-hold of passenger aircraft traditionally providing 80 percent of Auckland Airport's air freight capacity, the increase in services on a key trading route will also be welcomed by New Zealand businesses, said Tasker.