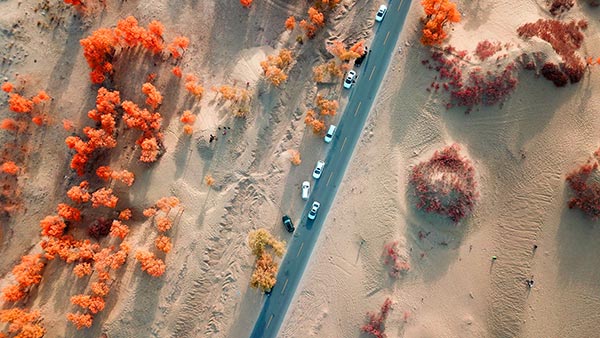 The Tarim Basin in Xinjiang harbors 54 percent of the world's riparian Populus euphratica. (Photo by Que Hure/China Daily)
The Xinjiang Uygur autonomous region is now alive with travelers. And tours featuring photography, gourmet food and folk customs are being encouraged by the local government to boost winter and spring travel.
The region received 1.76 million visits by domestic travelers during the Spring Festival holiday, up 16.10 percent over the same period last year, the region's tourism development committee says.
And tourism revenue surged 28.77 percent to 2.07 billion yuan ($326 million).
Meanwhile, travel agencies have rolled out tours to the Kanas scenic spot, which cover the Tianshan Tianchi (Lake of Heaven), the Wujiang Jurassic hot spring and an international ski resort.
And the number of visitors to Kanas has grown massively since November, the China Tourism News reports.
Separately, travel agencies have seen a significant growth in customers thanks to diverse travel products.
"We receive travelers every day, but the numbers grow during festivals and holidays," says Pang Shuai, a travel operator in Xinjiang, tells China Tourism News.
In a related development, the region's Jimusaer county holds a special potato feast on weekends so visitors can taste a wide variety of food made using the tuber.
There, they can also buy other local specialties, and visit major scenic spots such as the Thousand Buddha Caves.
During the Spring Festival, a cross-country self-drive event was held at Hemu village, where visitors could see the Tuvas celebrate the New Year, and engage in horse-racing, wresting and wood sawing contests.
Speaking about the tourism promotion activities, Wu Feng, the head of the Xinjiang travel agency association, says: "The key to boost winter tourism is to arouse traveler interest by organizing activities for them."
In a significant move, the Xinjiang government has signed an agreement with travel agencies outside the region to promote its winter and spring tourism activities.
So far, the local government has promoted its tourism attractions in Beijing and Kunming, the capital of Yunnan province.
Besides, Xinjiang is also offering a series of incentives to tourism players.
And many travel agencies, outdoor and auto clubs are interested in exploring what the region has to offer in winter and spring, says Wang Wei, the general manager of Xinjiang Daxibu International Travel Service.