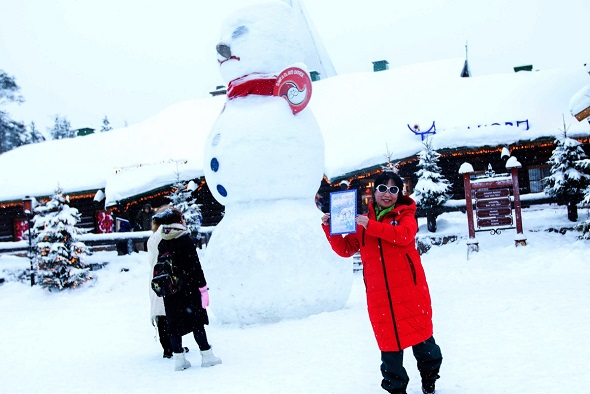 A Chinese tourist takes a photo with a snowman at a scenic spot in Finland.(Photo by Xu Kangping/for China Daily)
With the Spring Festival holidays approaching, some high-cost overseas tourism destinations have become more popular among Chinese tourists than before, according to a new report by Ctrip, China's largest online travel agency.
Antarctica, Argentina, Brazil, Tahiti, Norway, Tanzania, Iceland, Mexico, New Zealand and Finland have been listed as the 10 most expensive destinations for the coming vacation, according to the report released this week.
In those spots, most travelers are families and couples, Ctrip said, with the average spend for a family now topping 100,000 yuan ($15,898). Antarctica, the most expensive destination, will cost more than 160,000 yuan per person.
Yet, the number of Chinese tourists who registered for trips to Antarctica on Ctrip has doubled from last year, as many emerging middle-income consumers are willing to experience something different, having already traveled to various other countries, the report said. In addition, because it is the opposite season in the Southern Hemisphere, it is summer in Antarctica during the February break and the temperatures are higher than usual.
Dai Bin, director of the China Tourism Academy, said Chinese tourists are seeking more diverse experiences overseas. "More Chinese tourists are pursuing personalized, tailored and quality traveling experiences, resulting in more bookings to exotic destinations, reflecting their rising purchasing power and evolving tastes," he said.
On average, Chinese tourists are expected to spend 9,500 yuan per person during their travels abroad during the upcoming Spring Festival break. That number is flat on last Spring Festival, but is 60 percent higher than in slack seasons, the report found.
However, it will cost about 2 to 10 percent less to travel to the United States, Italy, Vietnam and the Philippines compared with last year, partly due to the appreciation of the yuan.
Peng Liang, director of Ctrip's vacation department, said for those travelers who want to save more money, they can look for trips that depart China five days ahead of the Lunar New Year, which falls on Feb 16, or leave three days after.