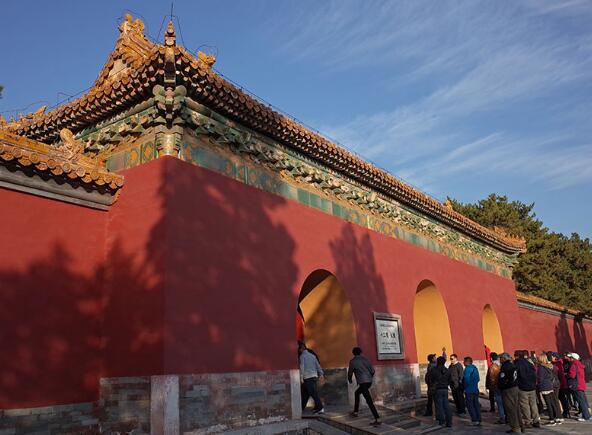 Tourists visit Changling, one of the three Ming Tombs currently open to the public, in November. (Photo/Provided to China Daily)
Development of surrounding area to preserve relics, protect environment
Beijing will relocate 15,000 people who live around the Ming Tombs in order for authorities to develop the area.
Zhang Yanyou, head of Changping district where the Ming Tombs are located, said the government is doing research on the development of the relics, which will take into consideration ecological protection and relics preservation, as well as the area's transportation.
The Ming Tombs, 30 kilometers north of downtown Beijing, has 13 emperors' tombs, some dating back 600 years. At present, only three of the 13 are open for tourists, though there are plans to gradually open all of them.
"After comprehensive research, the authority plans to build a community outside of the relics area for the local residents, which will ensure their livelihood," Zhang said. "The plan has been announced publicly to seek opinions and will be proposed to the higher national-level authority for approval."
According to the plan from the district government, the authority will build a 10.5-square-kilometer area near the site where tourists can experience the culture and life of the Ming Dynasty (1368-1644), including historical shows to display its economy, manners and literary achievements.
The government will also hold exhibitions to display cultural relics.
An insider familiar with the plan but not authorized to talk to the media said most of the residents make a living by farming and will be relocated to a community that can provide them jobs in the tourism industry.
"The government has been considering settling them by providing both a place to live and a job," the source said. "Many of those people are descendants of the ones who guarded the Ming Tombs, so they have a tight connection with the tombs.
"It's not a good idea to simply cut those connections, so the government will develop the tourism industry near the relics and offer job opportunities such as bus drivers, guides, salespersons and even temporary actors for the historical shows."
"The area will need many employees, which will give the residents jobs," the source said.
The plan is still awaiting approval and there is no detailed time frame.