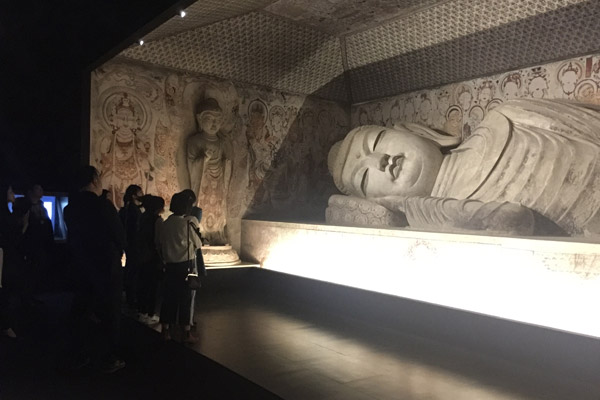 The ongoing show Mysterious Dunhuang, at a temporary exhibition space in Nanshan district in Shenzhen, features reconstructions of individual caves of the Mogao Grottoes. It lets visitors appreciate the art in detail and provides an immersive experience via cutting-edge technology. (Photo provided to China Daily)
A Shenzhen exhibition featuring replicas of the Mogao Grottoes offers visitors an immersive experience on a vast scale.
It's not possible for everyone to visit the Mogao Grottoes, home to the world's largest collection of Buddhist artworks, in person.
But a large-scale show in Shenzhen featuring reconstructions of individual caves found at the heritage site not only lets visitors appreciate the art that highlights China's culture in detail but also provides an immersive experience thanks to the use of cutting-edge technology.
Entitled Mysterious Dunhuang, the show that opened on Dec 30 displays seven replica caves identical in size and appearance to the originals found in Dunhuang in Northwest China's Gansu province. More than 100 murals created by generations of artists copying the cave murals are on display. Most of the original murals have never been seen by visitors to Dunhuang as they have been kept in storage to preserve them.
The entire ceiling of the exhibition space, about the size of 10 basketball courts, has been transformed into an arch-like screen, with films projected onto them, telling stories from the murals in the caves. Animated images of dancing and flying apsaras (supernatural entities in Hindu and Buddhist mythology) and videos introducing the Mogao murals are shown on separate stages. Audiences can lie down on banks of cushions and watch the sky-like screen.
"It's very rare for us to hold an exhibition of this scale out of the 100 or more shows we've held around the world," says Song Shuxia, deputy director of the visitor reception department at the Dunhuang Research Academy. She brought a team of professional guides working at the caves to the show, offering English and Japanese guide services to visitors.
The academy held exhibitions in the United States and Britain last year, and they will present a show in Venice in January.