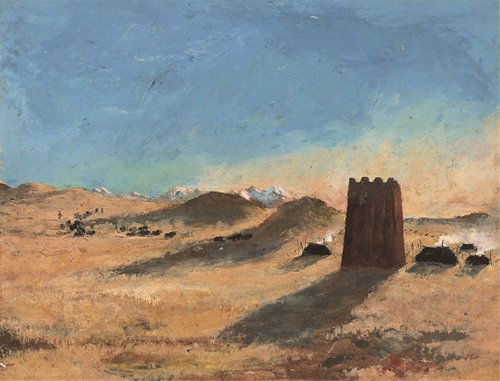 Evening on the Plateau by Wu Zuoren (Photo/Courtesy of National Art Museum of China)
Beauty in the New Era
More than 200 artworks by some of China's most influential artists including Qi Baihi (1864-1957) - painter of Twelve Landscape Screens - went on display at Beijing's National Art Museum of China (NAMOC) on Thursday.
Qi's Twelve Landscape Screens was sold for a record-breaking 931.5 million yuan ($140 million) at an auction hosted by China's Poly International Auction House in Beijing on Sunday, making it the most expensive Chinese artwork ever sold at auction.
Attracting some 130,000 visitors during its first public debut at the museum between November 16 to 26, Beauty in the New Era - Special Exhibition of the Collection of NAMOC Celebrating the Convening of the 19th National Congress of the Communist Party of China was one of the most popular and talked-about art exhibitions at the capital that month.
"The exhibition was held to celebrate the convening of the CPC 19th National Congress, so we took out some of our best-known collections for the show," Wu Weishan, the museum's curator, said in an interview with China Central TV (CCTV) on Wednesday.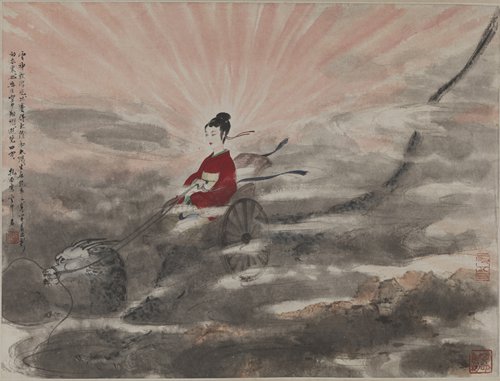 Man in the Cloud by Fu Baoshi (Photo: Courtesy of National Art Museum of China)
The exhibition featured works from renowned Chinese masters such as Fu Baoshi, Li Keran and Xu Beihong.
"But we did not expect that the exhibition would be so popular. To meet the demand from the public, we decided to make some adjustments and continue the exhibition," Wu explained.
The exhibition adds a number of new exhibits.
Featuring rare works of art ranging from Qi's symbolic ink paintings of shrimp and crabs to Xu's best-known work Galloping Horses, around 90 percent of the art works on display are debuting to the public for the first time, according to the CCTV report.
"The shrimp and crabs in Qi's paintings are so vividly depicted that I believe people will be moved just by looking at them," Wu told CCTV.
"I see Qi as a great painter because he was able to use ink to paint the spirit of all living creatures in such a delicate and marvelous way," said Wu.
"His paintings remind us of the best and warmest feelings about life, which is why I think his paintings appeal so much to people."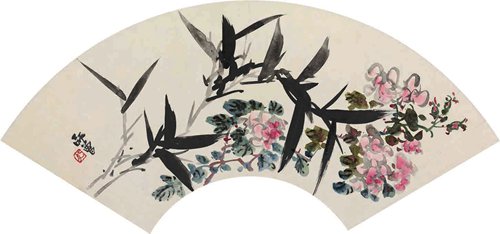 Flower Fan Cover by Chen Shizeng (Photo/Courtesy of National Art Museum of China)